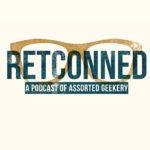 Coffee and comics… what's not to like? The next episode of RetConned is all that and more.
This time around we've got comic book writer Ron Marz in the studio. A veteran of the comics industry who's written just about every character you can probably name, Marz is – as always – currently working on a long list of comics projects. They include a comic book series for Death Wish Coffee, the Saratoga Springs coffee company that made headlines in 2015 by winning a contest to have its commercial air during the Super Bowl. The second issue of Odinforce was released during New York Comic Con earlier this year.
We spoke to Marz about Odinforce, as well as some of his other projects, including his work on the recently relaunched Ominous Press line of comics and the Beasts of the Black Hand series he's collaborating on with celebrated X-Files and Doctor Who artist Matthew Dow Smith and master sculptor and toy designer Paul Harding. We also discussed the role of social media in the modern age of comics.
The first two issues of his Odinforce comic for Death Wish Coffee are available now. Look for that and other projects – including the Ominous Press line of comics – in your local comic shop, and check out the funding campaign for Beasts of the Black Hand on Kickstarter.
Credits:
This has been RetConned, a production of WAMC Northeast Public Radio. Our producer is Patrick Garrett. I'm Rick Marshall. Thanks for listening, and be sure to subscribe to this podcast on iTunes, Google Play, or your podcast app of choice. It lets us know you're out there and want to hear more!