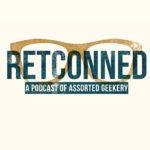 A prolific illustrator and sculptor, Harding has made a name for himself over the last decade or so working on some of the most popular lines of action figures from the comic book world. Along with designing toys and collectibles based on just about every superhero and villain out there, Harding has also worked on a long list of projects for the movie, television, and music world, and even finds time to provide illustrations for the occasional comic OR book cover.
Basically, if you've got an action figure on your shelf that just looks too good to part with, or one of those deluxe Blu-ray sets packaged in a collectible statue, there's a good chance you own something that Harding designed.
We took a trip to Harding's studio, located just north of New York's Capital Region, to learn more about the artistry of designing our favorite geekery.