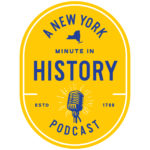 Join A New York Minute In History for the first episode of a special series on folklore. In this initial journey of our "Legends and Lore of The Empire State" series, co-hosts Devin Lander and Lauren Roberts explore the legend behind a storied lake monster in northern New York.
If you happen to find yourself driving along on Cumberland Head Road in the Town of Plattsburgh, looking out across the brooding blue waves of Lake Champlain you may come across a red and gold sign with the title "Champy." You pull over for a closer look and read this intriguing legend, told in a mere five lines of text.
CHAMPY
LEGENDARY LAKE MONSTER LIVES
HERE. OVER 300 SIGHTINGS
REPORTED SINCE 1819. UP
TO 200 FEET LONG. NYS LAW
PROTECTS THIS REGIONAL ICON.
NEW YORK FOLKLORE
WILLIAM G. POMEROY FOUNDATION 2019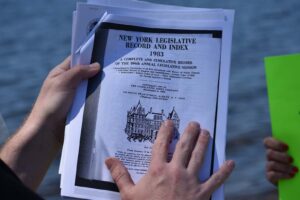 As with all folklore, there is a grain of historical truth to the Champy myth. French explorer Samuel de Champlain noted the existence of large fish in his 1609 journal documenting his exploration of the lake that would one day bare his name. These fish, most likely garpike, were described by de Champlain as growing to 8-10 feet long as told to him by his native guides. He himself saw some measuring approximately five feet long. However, de Champlain's actual description was modified over the centuries and became much misquoted.
The first sighting of a serpentine shaped lake monster was in 1819 at Bulwagga Bay, near Port Henry, NY. A certain "Captain Crum" described seeing a 187-foot sea serpent with a head shaped like a horse. And so the legend was born and since 1819, Champy has been seen over 300 times. Famed circus promotor PT Barnum even offered a $50,000 reward for anyone who could bring him the hide of Champy. The reward was never claimed.
Click here to learn more about the story of Champy.
Thanks to Town of Plattsburgh Supervisor Michael Cashman for sharing his time and insights into this unique story.
Original music for this episode was provided by Sean Riley.
A New York Minute In History is a podcast about the history of New York and the unique tales of New Yorkers. It is hosted by Devin Lander, the New York State Historian, and Saratoga County Historian Lauren Roberts. WAMC's Jim Levulis is the producer. A New York Minute In History is a production of the New York State Museum, WAMC Northeast Public Radio and Archivist Media.
Support for this podcast comes from the William G. Pomeroy Foundation®, which helps people celebrate their community's history by providing grants for historic markers and plaques. Since 2006, the Foundation has expanded from one to six different signage grant programs, and funded nearly 1,000 signs across New York State and beyond … all the way to Alaska! With all these options, there's never been a better time to apply.
The Foundation's programs in the Empire State include commemorating national women's suffrage, historic canals, sites on the National Register of Historic Places, New York State's history, and folklore and legends. Grants are available to 501(c)(3) organizations, nonprofit academic institutions, and municipalities. To apply for signage at no cost to you, or to learn more about the Foundation's grant programs, visit WGPfoundation.org.
This program is also funded in part by Humanities New York with support from the National Endowment for the Humanities. Any views, findings, conclusions or recommendations expressed in this podcast do not necessarily represent those of the National Endowment for the Humanities.