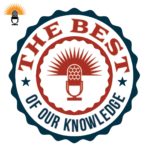 Sandra Day O'Connor made history as the first woman on the US Supreme Court. But women have been considered for the court since the 1930s.
This week on the Best of Our Knowledge, we'll open up history class and talk about the women shortlisted for the bench.
We'll also spend an Academic Minute with the history of an exclusive book club for women.
In the history of the United States, there have been 114 justices to sit on the Supreme Court. Only 4 have been women. But those four haven't been the only ones considered for the court. Now a new book takes an in-depth look at the stories of those women, who were in the conversation to be on the nation's top court. It's called Shortlisted: Women in the Shadows of the Supreme Court. Today we'll talk about that book and the story of the women who could have, but just missed out on making history, with one of the authors. Hannah Brenner Johnson is a law professor and the Vice Dean for Student and Academic Affairs at California Western School of Law in San Diego. We asked how she decided to take on this project.
Shortlisted: Women in the Shadows of the Supreme Court, was written with co-author Renee Knake Jefferson. Knake Jefferson holds the Doherty Chair in Legal Ethics at the University of Houston Law Center.
Yes, the Supreme Court has historically been a boys club. But there have been some historic clubs for women. That's the topic of today's Academic Minute.