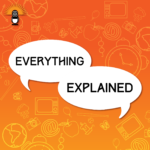 Eco-tourism. It's not about renting an electric-powered car or staying in a solar-powered Airbnb during your getaway. For an example of what I mean lets head to Ramblewild in Western Massachusetts. It's treetop adventure course allows visitors to swing, ride and hang roughly 50 feet in the air, but its other points of interests may not seem like tourist attractions at first glance. This is the first episode in our new sustainable series on the pod. Our Jim Levulis swung through the aerial adventure park… but first he joins us in studio to talk about his experience.
Everything Explained is produced by WAMC Northeast Public Radio with assistance from Kristin Gilbert, Ashleigh Kinsey, and Jim Levulis. I'm your host Patrick Garrett. As always we want to remind you to subscribe and leave a review because like everyone else in the "pod-realm" will tell you, it helps us to make more podcasts like this one.
You can subscribe here on iTunes, here on Stitcher, and here on the Google Play store.