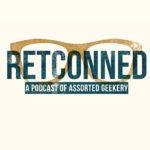 Brothers Karthik and Guha Bala spent 25 years turning the video game company they started in their parents' basement into one of the most successful studios in the industry, only to leave the company in 2016. Why would they do such a thing? We get the answer to that question on the latest episode of RetConned. Hello, and welcome back to another episode of RetConned, a podcast of assorted geekery.
I'm Rick Marshall, and today we're talking video games and the people who make them — specifically, one half of the sibling duo that founded Vicarious Visions game studio in New York's Capital Region. Karthik and Guha Bala created Vicarious Visions in 1990 while the pair were still in high school. Over the next 25 years, the studio made a name for itself working on adaptations of game franchises for portable systems like the Game Boy Advance and Nintendo DS, only to hit big with their work on the kid-friendly, billion-dollar Skylanders franchise. The studio was purchased by game publisher Activision in 2005, and recent reports indicated that the studio's projects have accounted for more than 2.5 billion dollars in sales so far.
That's why it came as a bit of a surprise when Karthik and Guha announced in April 2016 that they were leaving Vicarious Visions.
Since leaving Vicarious, the brothers founded Velan Studios, a new video game studio that aims to create (in their words) "breakthrough experimental games and new kinds of experiences that push the frontier of gaming forward." They got things off to a good start by raising more than 7 million dollars in venture capital for their startup studio, and have an ambitious set of goals in mind for their new company – a set of goals that includes fostering a game-development hub in and around New York's Capital Region.
RetConned spoke to Karthik about the pair's reasons for leaving Vicarious, their plans for Velan Studios, and the past, present, and potential future of the video game industry.
Credits:
This has been RetConned, a production of WAMC Northeast Public Radio. Our producer is Patrick Garrett. Our host is Rick Marshall. Thanks for listening, and be sure to subscribe to this podcast on iTunes, Google Play, or your podcast app of choice. It lets us know you're out there and want to hear more!