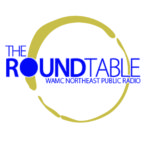 The Felice Brothers' new album, Life in the Dark, is out on Yep Roc records and they're heading out on a huge tour this summer.
We're lucky to have them playing several spots in the greater WAMC listening region — they'll be at Green River Fest in Greenfield, MA on 7/9; Troy Riverfront Park on 7/20, The Catskill Brewery in Livingston Manor, NY on 8/6; and the Falcon Ridge Folk Festival in Hillsdale, NY on 8/7.
We were very excited to have them stop by The Linda to talk about what's new and play some tunes.