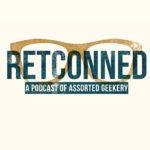 On this episode of RetConned, we talk to the CEO of industry-leading digital comics platform Comixology in the lead-up to this year's San Diego Comic-Con about the changing face of the comics industry and his platform's 10th anniversary. Today we're talking comics – and the comics industry – with the CEO of the digital comics platform, Comixology.
Initially launched back in July 2007, Comixology has grown into the industry leader in digital comics distribution over the last decade. The Comixology app and website makes more than 100,000 comics available across various mobile and online platforms, and it crossed an impressive milestone in September 2013 when it facilitated its 200 millionth comic downloaded.
Given how much of the conversation ten years ago questioned whether digital comics would ever be embraced by the comics community, Comixology's success is, well… kind of a big deal.
With this year's San Diego Comic-Con looming on the horizon, we spoke to CEO David Steinberger about the last ten years of comics, Comixology, and yes, Comic-Con. And we also got a preview of what Comixology has planned for the big show and beyond.