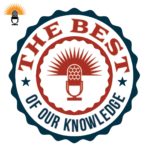 A pair of film makers from Florida has explored the history of the Vietnam War from an interesting perspective: surfing.
Today on the Best of Our Knowledge, we follow the journey back to China Beach. We'll also hear about the Army's new recruiting campaign.
Then we'll learn how students can find success by finding their edge. According to Laura Huang it takes that elusive quality she calls an edge for a student to realize their full potential. Dr. Huang is an associate professor at Harvard Business School. In her debut book called "EDGE: Turning Adversity into Advantage", she draws from her research showing that personal success takes more than our ideas, credentials skills and hard-work, it takes an edge.
And we'll spend an Academic Minute writing the old fashioned way.