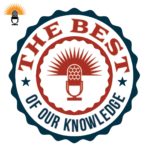 This week on The Best of Our Knowledge, we'll hear the results of a Junior Achievement survey. The survey discusses reopening schools amid COVID-19.
We'll also learn how the army is adjusting its recruiting strategy, look at the results of distance learning, and spend an Academic Minute respecting digital literacy.
The debate about reopening schools in the fall continues. Some are calling for a full reopening with students in school all day every day, while others are calling for continued distance learning until the pandemic eases. Also, there are those in the middle calling for a little bit of both. School administrators are talking to faculty and staff as well as parent groups to make the best decision for their districts. But what do the students think? To find out, we spoke with Ed Grocholski, a senior vice president with Junior Achievement USA. JA just released the results of a survey of students in the U.S. about how they feel about going back to school this year. We asked Mr. Grocholski about the research.
Army recruiters typically look for future soldiers at high schools and career fairs. But COVID-19 has forced the service to scale back face-to-face interactions, and the pandemic has revealed gaps in the Army's digital outreach strategy. Carson Frame reports for the American Homefront Project.
To succeed in school, especially in the age of COVID-19, a student needs to be digitally literate. But are students being respected for that digital literacy? That's the topic of today's Academic Minute.