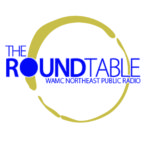 Brilliant Traces, by Cindy Lou Johnson is a roller-coaster of a play about feelings of isolation and people's need to be understood. Both comic and anguished, Brilliant Traces is set in a recluse's cabin in an Alaskan blizzard where a runaway bride seeks shelter.
Performing Arts of Woodstock is opening a production of the play at the Mescal Hornbeck Community Center this week.
The production is directed by Sande Shurin and stars Maria Elena Maurin as Rosannah. They join us along with President of Performing Arts of Woodstock, Adele Calcavecchio.