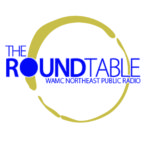 Since 1985, Vassar and New York Stage and Filmhave been partners in the Powerhouse season, a collaboration known for being the springboard for new stories that go on to theaters across the country and around the world. This year's Tony Award winning and nominated shows The Humans, Bright Star, and Hamilton, can all claim incubation periods at Powerhouse.
The 2016 season began with a reading festival last weekend and its first main stage show, Transfers by Lucy Thurber, opened last night and runs through July 10th.
Johanna Pfaelzer is the Artistic Director of New York Stage and Film and she joins us to talk about the 2016 season.