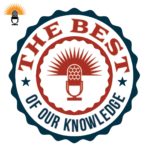 A few years back, we spoke to the authors of a book called Fault Lines in the Constitution – The Framers, their Fights and the Flaws that Affect Us Today. The book pointed out the faults in the constitution with stories and examples from current and historical events. Continuing the conversation is the new book Fault Lines in the Constitution – The Graphic Novel. The book is written by Cynthia Levinson, a writer of non-fiction for young readers, and Sandy Levinson, a professor of Law at the University of Texas in Austin… There's also a new member of the creative team, illustrator Ally Shwed.
We asked Cynthia and Sandy what they hoped this edition of the book will accomplish that the others did not.
Fault Lines in the Constitution – The Graphic Novel is published by MacMillan.
It's been 34 years, but Pete "Maverick," Mitchell, will be back in the cockpit for a new "Top Gun" movie. Navy leaders say the original Tom Cruise film led to a recruiting surge. But it's not clear whether next year's sequel will have the same effect. From Los Angeles, Libby Denkmann reports for the American Homefront Project.
So many of us have been stuck at home for the last few months we've almost forgotten how much most of us like to travel. That's the topic of today's Academic Minute.