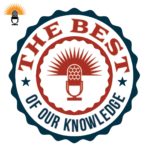 On this week's The Best Of Our Knowledge, we'll talk about the new biography Demagogue – The Life and Long Shadow Of Senator Joe McCarthy, by author Larry Tye.
For a short time beginning in 1950, Senator Joe McCarthy was one of the most powerful political figures in the nation. Seven years later, he died a broken man.
Best-selling author Larry Tye obtained McCarthy's long-hidden personal and professional papers. He uses this research to tell Senator McCarthy's story.
Tye has written biographies of subjects from Satchel Paige to Bobby Kennedy. We asked why he decided to write about this American demagogue.
If you find that you need a little laughter in your life, you might find some in a can. That's the topic of today's Academic Minute.