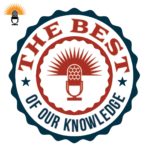 The Deepwater Horizon offshore oil rig exploded in April of 2010. But it was 10 years ago this month that the oil began showing up on the shore.
Today on The Best of Our Knowledge, we'll hear from a researcher and an emergency manager about the history of the BP Gulf Oil Spill.
Dr. Wade Jeffrey is a Distinguished University Professor of Biology and Director of the Center for Environmental Diagnostics and Bioremediation at the University of West Florida.
Escambia County, Florida is on the western tip of the panhandle, bordering Alabama. Robert Turpin is a marine biologist and Manager of Escambia County Florida's Marine Resources Division.
Scientists are trying to recreate the gulf oil spill in the lab, which is the topic of today's Academic Minute.