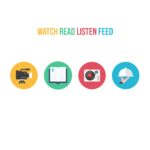 On this short bonus episode of Watch Read Listen Feed, our Deanna Fox gives us a musician she's been digging lately – Sister Nancy.
Full song:  Sister Nancy – Bam Bam
Look for more bonus episodes between the monthly full episodes!  Deleted Scenes are for movie recs, Epilogue's for books, Bonus Track's for music and Extra Slices for food.  Enjoy and thank you for listening!
As always, contact us a [email protected].