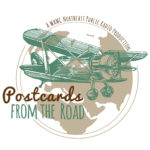 Traversing Iceland by foot, Mongolia by horseback, Arabia by camel and the Blue Nile Gorge by raft; Bruce Kirby's journeys span 80 countries around the world. In his new book "Blue Sky Kingdom," we follow Kirkby and his family as they hop on a freighter and make a remarkable three-month journey from Canada to the Himalayas. We asked the writer, photographer, and now author what prompted his adventure halfway around the globe.
That was writer and photographer Bruce Kirkby discussing his new memoir Blue Sky Kingdom, published by Pegasus.
Photo courtesy of Bruce Kirkby.