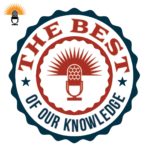 On this week's The Best Of Our Knowledge, we discuss birds, a pre-k book program, and terrifyingly awesome technology.
Dr. Kevin McGowan is an Ornithologist at the Cornell Lab of Ornithology in Ithaca, New York who has taught thousands of beginners how to get started with birdwatching. He has created a new course for novice birdwatchers called The Joy of Birdwatching. It's designed for students to begin appreciating the beauty of the birds in their own neighborhoods. I spoke with Dr. McGowan and asked about the new course. You can learn more about the course at all about birds.org.
A free summer education program is now available to pre-kindergarten students in Northwest Florida, regardless of income. Sandra Averhart has the details on Upstart Summer Learning.
Advances in technology can be amazing! They can also be pretty scary if you think they are moving too far or too fast. But that doesn't stop Sean Connolly from having some fun with it. That's just what he does in his book for young students called The Book of Terrifyingly Awesome Technology, where he focuses on the T in STEM education. I asked him where this fun project got started.