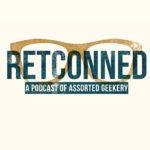 It ain't easy being green — or is it? We get the scoop on the gender-bending character who pilots Voltron's green lion from actress Bex Taylor-Klaus in the latest episode of RetConned.
Today we're activating the interlock and connecting the dynotherms for a chat with actress Bex Taylor-Klaus about the animated series Voltron: Legendary Defender — or more specifically, Pidge, the gender-bending character she voices in the hit show.
A reboot of Voltron, the classic '80s cartoon that featured a team of space pilots whose robotic lions combined to form a powerful, sword-wielding mechanical warrior, Legendary Defender gave the old show more than just a new coat of paint when it premiered in 2016. Along with updating the animation, Legendary Defender reinvented many of the characters and concepts of the Voltron universe to take the sci-fi saga in new directions.
One of those changes involved Pidge, the spectacled, diminutive pilot of the green lion who went from being a young boy in the original series to — spoiler alert — a teenage girl in Legendary Defender. The gender change-up for the character was revealed midway through the first season, and inspired no small amount of discussion regarding the importance – or lack thereof – of gender in pop culture and the way movies and television can and should handle such plot points.
With the fourth season of Voltron: Legendary Defender now available to stream on Netflix, we talked to Taylor-Klaus about the responsibility that came with portraying Pidge, why Legendary Defender is succeeding where so many other reboots of old shows have fallen flat, and the place she's earned in the geek scene with recent roles in the Arrow and Scream TV series, along with Voltron.