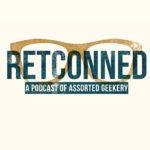 From the catacombs of Italy to the glowworm caves of New Zealand, we discuss some of the weirdest, wonderful places the world has to offer on this episode of RetConned. Today we're branching out a bit on the show — WAY out.
You don't have to be a fan of science-fiction, fantasy, and horror to have an appreciation for the strange, peculiar places all around us, but it helps. The website Atlas Obscura has been cataloging just those sorts of places for almost a decade now with some help from a talented editorial team and readers willing to share their own experiences with creepy and quirky destinations both at home and abroad.
In 2016, Atlas Obscura released its first travel guide, titled Atlas Obscura: An Explorer's Guide to the World's Hidden Wonders. Elizabeth Hill of our sister podcast Postcards From The Road talked to Atlas Obscura Senior Editor Ella Morton, who co-authored the novel, about the website, the book, and the extraordinary events and places that inspired them.
Credits:
This has been RetConned, a production of WAMC Northeast Public Radio. Our producer is Patrick Garrett. Our host is Rick Marshall. Thanks for listening, and be sure to subscribe to this podcast on iTunes, Google Play, or your podcast app of choice. It lets us know you're out there and want to hear more!