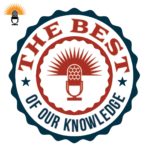 If you've ever seen a cartoon in your life you've probably seen the work of Ron Campbell. Beginning in the late 1950s in his native Australia, Campbell had a fifty-year career as an animator and director of some of the most iconic TV shows. His work ranges from Popeye and Krazy Kat to Duck Tails and Rugrats. In the 60s, he became involved with the wildly popular animated show starring The Beatles. This led to him working on the movie Yellow Submarine.
Ron Campbell is retired now. He takes his artwork from those days to various art galleries around the world. I spoke with him recently and asked how he got started in the business. Ron Campbell spent fifty years as an artist, animator, and director. You can see his exhibition at Beatlescartoonartshow.com.
Ellen Forney is a cartoonist and mental health advocate, who wrote the New York Times bestselling graphic memoir, Marbles: Mania, Depression, Michelangelo, & Me. Her memoir is the story of her diagnosis and struggle with bipolar disorder. Her second book is Rock Steady: Brilliant Advice From My Bipolar Life, a guide to maintaining mental health. We asked her why she felt her story was one she needed to tell.
If 2020 has taught us anything it's that we really need a healthy sense of humor to get by. That's the topic of today's Academic Minute.
Photo Credit: Nick Follger and courtesy of Ron Campbell.