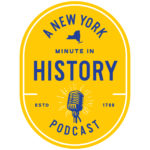 On this episode of A New York Minute In History, co-hosts Devin Lander and Don Wildman examine how two New Yorkers – Al Smith and Franklin Delano Roosevelt – influenced the Progressive Era of the early 20th century. The episode also explores how the administrations of Smith and Roosevelt shaped modern day politics and the role of government.
Franklin D. Roosevelt (FDR)
Franklin Delano Roosevelt (FDR) was born in Hyde Park, New York on January 30, 1882. He was the son of James Roosevelt and Sara Delano Roosevelt. He attended prestigious preparatory school Groton, received a Bachelor of Arts degree in history from Harvard University, and studied law at Columbia University. Roosevelt passed the bar examination in 1907. He left Columbia without having received a degree and practiced law in New York City until he entered politics. Roosevelt married Anna Eleanor Roosevelt in 1905 and the pair had six children, of whom five survived infancy.
Roosevelt ran for the New York State Senate as a progressive Democrat. He was elected 1910 and reelected in 1912. In the State Senate, Roosevelt stood in opposition to "machine politics" and "political bossism." He sponsored a resolution for New York's congressional delegation to approve the U.S. Constitution's seventeenth amendment for the direct election of senators. Roosevelt also championed conservation.
Woodrow Wilson appointed Roosevelt Assistant Secretary of the Navy in 1913, a position that Roosevelt held until 1920.  His experience, success and popularity in naval affairs resulted in Roosevelt's nomination for the role of vice president by the Democratic Party in 1920. He shared the ticket with James M. Cox. The pair lost the 1920 presidential election to Republican candidate Warren Harding. The loss prompted Roosevelt to take a hiatus from politics.
Roosevelt contracted poliomyelitis (infantile paralysis) in 1921, while vacationing at Campobello Island, New Brunswick. Due to the illness, Roosevelt permanently lost the use of his legs. Roosevelt's diagnoses and treatment for polio encouraged his work to combat the disease, including the establishment of a recovery center in Warm Springs, Georgia and the organization of the March of Dimes, which eventually funded the creation of an effective polio vaccine. Despite his illness, Roosevelt resumed his political career at the encouragement of political confidant Louis Howe and his wife, Eleanor.
Roosevelt's appearance and speech at the Democratic National Convention of 1924 won him acclaim. He spoke on behalf of Alfred E. Smith. Although Smith lost the Democratic presidential nomination to John W. Davis in 1924, Smith won the presidential nomination in 1928. In 1928, Smith arranged for Roosevelt to succeed him as New York's governor. Smith did not win the presidency, but Roosevelt was elected Governor of New York.
While Governor of New York, Roosevelt established himself as a progressive governor by increasing enhancing the power of state agencies, increasing regulatory supervision of business, providing by tax relief to farmers, advocating cheap electric power, and establishing relief programs for people out of work following the 1929 stock market crash, including the New York State Unemployment Relief Act and the creation of the Temporary Emergency Relief Administration (TERA).
Roosevelt's campaign for the presidency began on 1930.  Roosevelt's policies in New York aimed at combating the Great Depression provided a stark contrast to President Herbert Hoover's national efforts. Roosevelt's activist approach, calls for government intervention in the economy, and the Republicans unpopularity in the United States propelled Roosevelt to earn the Democratic nomination and eventually become the 32nd President of the United States.
Roosevelt entered the White House at the height of the great Depression. In response to a worsening economy and rapidly increasing unemployment, Roosevelt took immediate action and in the first one hundred days of his administration and implemented a series of landmark actions to address the crisis. Roosevelt's New Deal programs expanded government intervention in economic and social life and increased government spending, which made the plan controversial to his political critics. The New Deal, however, increased confidence in the US economy, initiated programs to provide jobs to Americans, and expanded unemployment compensation and old-age benefits through the 1935 Social Security Act.
In 1939, World War Two began in Europe. By 1940, Roosevelt had actively prepared Americans for the possibility of war, including a massive rearmament campaign that resulted in the largest and most powerful assembly of land, sea, and air forces globally. Roosevelt promoted sympathy for Great Britain by touting the importance of America as the "arsenal of democracy" and under the Lend-Lease program, provided military assistance to Great Britain in exchange for air and naval bases. The United States entered World War Two after the Japanese attack on Pearl Harbor on December 7, 1941. The beginning of World War II also marked the end of the great Depression, when expansion of the defense economy put the unemployed who were not called to military service back to work.
During the Second World War, Roosevelt committed the United States to a number of international mechanisms including the International Monetary Fund and World Bank. Participation guaranteed American involvement in the rise of the "global economy." Roosevelt also shared the "Four Freedoms"—Freedom of Speech, Freedom of Worship, Freedom from Want, and Freedom from Fear. Roosevelt's call reflected his determination to establish a United Nations committed to collective security, human rights, national self-determination, and economic justice.
Roosevelt was elected for a third term in 1944 and remains the only American president to serve more than two terms. Before the end of World War Two, Roosevelt fell ill. He attended the Yalta Conference and upon his return, travelled to the Little White House to recover. Roosevelt died of a cerebral hemorrhage on April 12, 1945 while in Warm Springs, Georgia. Roosevelt is buried in Hyde Park, New York.
Sources: https://fdrlibrary.org/fdr-biography
https://www2.gwu.edu/~erpapers/teachinger/glossary/roosevelt-franklin.cfm
https://socialwelfare.library.vcu.edu/people/roosevelt-franklin-delano/
Alfred E. Smith (Al Smith)
Alfred E. Smith was born on December 30, 1873 in Manhattan, New York's Lower East Side. Smith was born to Anglo-Irish, working-class parents. He was educated in the neighborhood parochial school and displayed an interest in politics early in life. Politically, he represented the populist wing of the Democratic Party and claimed to serve the interests of the working man rather than socioeconomic elite.
Smith joined the local Tammany Hall organization in the mid-1890s and obtained his first political position as Commissioner of Jurors clerk in 1895. He spoke regularly at many Tammany events and in 1904 secured Tammany's support in pursuit of a seat in the New York State Assembly. Smith was rhetorically a populist, but he built his career around progressive issues, including a controversial anti-prohibition stance. Despite his association with Tammany Hall, Smith earned a reputation as a moderate progressive and was recognized as a gifted orator and progressive legislator by fighting against political corruption and governmental reform at the city and state level. By 1913, Smith's interest and investigation into the Triangle Shirtwaist factory fire increased his popularity in the Democratic Party and the New York State Assembly elected him speaker.
Smith was elected Governor of New York in 1918. As Governor, Smith appointed a commission to recommend a strategy for New York State to improve government response the needs of everyday citizens. Smith lost the 1920 election, but regained the governorship in 1922, 1924, and 1926, where he fought for the passage of progressive reforms. These reforms included creation of government subsidized housing, limitations on work hours for women and child workers, expansion of the state financing of public education and expansion of workmen's compensation and women's pensions.
Smith campaigned for President of the United States in 1928. Once Smith earned the Democratic nomination, he urged Franklin D. Roosevelt to run and succeed Smith as New York's Governor. Smith intended to focus his campaign on issues, but he was unable to overcome Americans' skepticism around his Catholicism and concerns about his New York upbringing. Herbert Hoover won the election in an electoral landslide.
Smith removed himself from politics after the 1928 loss, but his political activities continued in private life. Smith supported Franklin D. Roosevelt in the election of 1932. However, Smith retracted his support for the president following in response to Roosevelt's governorship, during which Smith sought more political influence. The two also ran against one another for the presidency in 1932. During Roosevelt's presidency, Smith actively worked against the New Deal as a member of the Liberty League. He believed that the New Deal was unconstitutional and opposed Roosevelt's rhetoric, claiming it incited class warfare. Smith endorsed Republican nominees Alf Landon and Wendell Willkie in the elections of 1936 and 1940.
Smith died in New York City on October 4, 1944.
Sources: https://www2.gwu.edu/~erpapers/mep/displaydoc.cfm?docid=erpn-alfsmi
https://mcnycatablogdotorg.files.wordpress.com/2014/01/alfred-e-smith-finding-aid.pdf
Thanks to Dr. Terry Golway, author of Frank and Al: FDR, Al Smith and the Unlikely Alliance That Created the Modern Democratic Party, and Dr. Robert Chiles, author of The Revolution of '28: Al Smith, American Progressivism and the Coming of the New Deal, for all of their help with this episode.
Also, thank you to WNYC Archive Collections and the Franklin D. Roosevelt Presidential Library and Museum for some of the great audio clips heard in this episode.
Dana Kerdesky, an intern at the New York State Museum, compiled this episode's web content. 
Music used in Episode 5 of A New York Minute In History includes "When The Boys Come Home" composed by Oley Speaks and "The Sidewalks of New York" composed by Charles B. Lawlor with lyrics by James W. Blake.
Check in with A New York Minute In History on Twitter.
A New York Minute In History is a podcast about the history of New York and the unique tales of New Yorkers. It is hosted by Devin Lander, the New York State Historian, and Don Wildman. Jim Levulis is the producer. A New York Minute In History is a production of the New York State Museum, WAMC Northeast Public Radio and Archivist Media. 
Support for this podcast comes from the William G. Pomeroy Foundation®, which helps people celebrate their community's history by providing grants for historic markers and plaques. Since 2006, the Foundation has expanded from one to six different signage grant programs, and funded over 800 signs across New York State and beyond … all the way to Alaska! With all these options, there's never been a better time to apply.
The Foundation's programs in the Empire State include commemorating national women's suffrage, historic canals, sites on the National Register of Historic Places, New York State's history, and folklore and legends. Grants are available to 501(c)(3) organizations, nonprofit academic institutions, and municipalities. To apply for signage at no cost to you, or to learn more about the Foundation's grant programs, visit WGPfoundation.org. 
The project is also sponsored by a Humanities New York Action Grant with funds from the National Endowment for the Humanities.  Any views, findings, conclusions or recommendations expressed in this program do not necessarily represent those of the National Endowment for the Humanities.