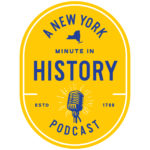 The first episode of A New York Minute In History explores the lives of Henry Johnson and Tommy Hitchcock Jr., World War I heroes with ties to New York. Through interviews with family members, historians and others, we follow Johnson and Hitchcock to the trenches and airfields of Europe and beyond. We explore how both men are shaped by their upbringings and the color of their skin. We examine how each is celebrated and remembered in different ways because of their actions and the social practices of the early 20th century to today.
For more on the role of New York and New Yorkers in World War I, check out the exhibit "A Spirit Of Sacrifice: New York State In The First World War" at the NYS Museum.
Tommy Hitchcock Jr. 
Thomas Hitchcock Jr. was born in Aiken, SC on February 11, 1900. On his mother's side (Eustis), he could trace his ancestry back to the Massachusetts Bay Colony while the Hitchcocks were long considered "landed gentry" in both Massachusetts and their beloved Long Island. Tommy's father and mother were famous for their horses and for helping to popularize polo among the wealthy elite in the late 19th century. Tommy spent his winters at the Hitchcock horse farm in Aiken while summers were spent at Old Westbury, Long Island at the family's Broad Hollow Farm estate. An active and energetic youth, Tommy thrived in a family that epitomized the sporting class elite of the time. From the age of 10-12, Tommy was educated in Massachusetts at the Fay School, the oldest pre-preparatory boarding school in the nation. He spent the ages of 12-17 at the prestigious St. Paul's School in New Hampshire where he excelled as an athlete and was voted class president in his final year.
It was while at St. Paul's that Tommy became an enthusiastic supporter of the Preparedness Movement beginning in 1915. The Preparedness Movement was led by Theodore Roosevelt, a close friend of Tommy's father, and Army Chief of Staff Gen. Leonard Wood. Roosevelt and Wood felt that America's involvement in WWI was inevitable and that the country was completely unprepared. They sought to encourage America's involvement by engaging the youth of the elite classes to participate in training camps and even enlist in Allied units where possible. Wood went on a speaking tour of elite Eastern prep schools and colleges in 1915, speaking at St. Paul's that summer. During the summer break of 1916, Tommy took part in the Naval Training Cruise for Civilians in Long Island, which taught civilians how to be sailors. He disliked shipboard life, however, and instead became determined to become a combat pilot in the new American Air Service when American entered WWI in April 1917.
Despite Tommy's patriotic passion and despite Theodore Roosevelt's help, he was deemed too young to serve in the Air Service. Instead, Tommy set his sights on joining the Lafayette Air Corps and serving as an American pilot in the French Air Service. Tommy joined the Lafayette Air Corps in June 1917 and spent the majority of the rest of the year training to be a combat pilot at Ecole Militaire d'Aviation at Avord, 120 miles southwest of Paris.
After completing training, Tommy was assigned to the Escadrille N-87 unit and stationed in Luneville, France. On January 6, 1918, Tommy took part in his first aerial combat near Nancy, where he shot down a German plane, becoming one of the youngest pilots to do so and earning a Croix de Guerre with palm. Tommy found even more success on January 19 and 20 when he downed two more German planes and earned two more palms for his Croix de Guerre.  Newspapers across the world heralded this "boy wonder" who was on his way to becoming America's youngest Ace.
This came literally crashing down on March 6, 1918, however. On that day, Tommy's luck ran out and he was shot down over German territory. Though he took a bullet in the leg, he survived the crash and was taken prisoner for several weeks. The Germans moved their prisoners from camp to camp and during one of these moves, in August 1918, Tommy leaped from a moving prisoner train and escaped, walking more than 80 miles at night to the Swiss border. Once in Switzerland, Tommy was sent back to Paris where he awaited transfer to the American Air Service. The war ended before such a move could take place and he returned home to Long Island in November 1918.
Despite Tommy's heroics and the media attention they garnered, he rarely spoke about his WWI exploits and did not take part in any homecoming parades. After the war, he returned to life in Old Westbury and Aiken, playing polo and pursuing a life of sport. He attended Harvard and Oxford Universities and in the 1920s he devoted himself fully to polo, achieving the highest ranking of a 10-goal handicap and popularizing the sport to heights not seen before or since. Many today still consider Tommy Hitchcock to have been the world's greatest ever polo player.
In 1928, Tommy married Margaret Mellon Laughlin, a widow and heiress to the Mellon family fortune. The couple had four children as well as Margaret's son from her previous marriage.  In the 1930s, Tommy went to Wall Street as a partner in his friend Robert Lehman's investment bank, where he worked for over a decade, flying from his estate in Old Westbury to his office in Manhattan in his seaplane.
When the U.S. became involved in WWII, Tommy attempted again to enlist in the Army Air Corps as a combat pilot, this time being turned down for being too old. Instead, he was made a Lt. Colonel and assigned as a liaison to the Royal Air Force. In 1942, he began working on helping to develop and improve the P-51 Mustang as a combat fighter plane. On April 18, 1944, while test piloting a Mustang in an attempt to find out why pilots were having trouble with engine stalls, Hitchcock's plane crashed in England, killing him instantly. He was posthumously awarded the Legion of Merit, the Bronze Star, and the Distinguished Flying Cross and President Franklin Roosevelt personally wrote to the Hitchcock family to offer his condolences.
Henry Johnson
Henry Lincoln Johnson was born in 1897 in Alexandria, Virginia and spent his early years in Winston-Salem, North Carolina. As a young man, Johnson arrived in New York's Capital Region where he became a redcap porter at Albany's Union Station.
Shortly after the United States entered World War I, Henry Johnson enlisted in the all-black 15th New York Infantry Regiment. His heroic actions while serving with the French Army in May 1918 left him severely wounded.
The heroism of Henry Johnson was well-publicized and lauded across the nation immediately after the war. Johnson led and was celebrated at an Albany dinner by Governor Al Smith and Mayor James Watt. At that event, a street in Albany was to be named in Johnson's honor and the governor promised a monetary award for the wounded veteran. Within weeks of his homecoming, however, the fanfare surrounding Johnson disappeared.
Immediately after the war Henry Johnson's heroic efforts were well-publicized and celebrated.  Johnson led the regiment's homecoming parade up Fifth Avenue in New York City on February 17, 1919. In Albany, at a dinner hosted by Governor Al Smith and Mayor James Watt claims of honoring Johnson with an Albany street named after him and monetary award were promised.
For Henry Johnson, like many other African-Americans who had answered the nation's call in the Great War, returning home to the status quo was unacceptable. At a Liberty Bond rally in St. Louis, Missouri, Johnson decried the racism and prejudice of white soldiers in the American Army including what the St. Louis Argo called, "a haranguing of the white soldiers' valor and bravery." Johnson left the city that evening, just hours before a warrant was issued for his arrest.
The tragedy surrounding Henry Johnson epitomized the widespread failure of the nation to adequately address veterans' needs for returning soldiers of all races, but were all the more accentuated by the fact that he was African-American. Despite being welcomed home as a hero, Henry Johnson was quickly forgotten by his nation. Following the event in St. Louis, Henry Johnson largely disappeared from American memory. The severity of his wounds prevented his return to the physical work required of a redcap porter.
The lack of educational opportunities afforded to Johnson as a black youth growing up in the South meant that he was unequipped for employment in more white collar jobs – especially given the scarcity of such jobs for African-Americans. As a largely uneducated African-American veteran, Johnson was unable to take advantage of the few programs available to wounded veterans. His outspokenness after the war about racism in the A.E.F. alienated him from erstwhile white supporters.
Johnson and other African-Americans often found it difficult to take advantage of the job training opportunities offered by the Veterans Bureau, due to the intransigence of southern leaders in the government bureaucracy. It is also likely that Henry Johnson suffered from the invisible wounds of war, which were unknown and untreated by medical professionals of the time.
The scars of war apparently led to an estrangement between Johnson and his wife, Edna. The monies and accolades promised to Johnson never materialized. Unable to find gainful employment and suffering from the pain from his wounds, Henry Johnson died impoverished and alone on July 10, 1929 at the age of 32. To add insult to his story, he was buried at Arlington National Cemetery under the incorrect name – an error that went undiscovered for more than half a century.
The racial climate in the nation at the time also meant that official recognition of Johnson's bravery from the United States Army would not be forthcoming.
It would not be until 1996 that Henry Johnson was awarded the Purple Heart – an award presented to every American service man or woman wounded in combat. In 2002, Johnson was posthumously awarded the Distinguished Service Cross, the nation's second highest award for valor. Finally, 97 years after the Battle of Henry Johnson, President Barrack Obama presented the Medal of Honor to Sergeant Henry Lincoln Johnson in a White House Ceremony on June 2, 2015.
Music used in Episode 1 of A New York Minute In History includes "When The Boys Come Home" composed by Oley Speaks, "Over There" by George M. Cohan, "How Ya Gonna Keep Em Down On The Farm" by the 369th Infantry Regimental Band led by James Reese Europe, "Goodbye Broadway, Hello France" and "You're A Grand Old Flag" by The American Quartet, "Au Revoir But Not Goodbye, Soldier Boy" by The Peerless Quartet, "Keep The Home Fires Burning – 'Til The Boys Come Home" composed by Ivor Novello and "Keep The Trench Fires Going For The Boys Out There" composed by Harry Von Tilzer.
Check in with A New York Minute In History on Twitter or by emailing [email protected].
A New York Minute In History is a podcast about the history of New York and the unique tales of New Yorkers. It is hosted by Devin Lander, the New York State Historian, and Don Wildman. Jim Levulis is the producer. A New York Minute In History is a production of the New York State Museum, WAMC Northeast Public Radio and Archivist Media. 
Support comes from the William G. Pomeroy Foundation®, which has two core initiatives: diversifying the Be the Match Registry, and preserving history through Historic Signage Grant Programs. This year, on the 100th anniversary of World War One's end, the Foundation has launched a new historic marker program to commemorate New York's role in the war. To apply for a marker grant or to learn more, visit: wgpfoundation.org.
The project is also sponsored by a Humanities New York Action Grant with funds from the National Endowment for the Humanities.  Any views, findings, conclusions or recommendations expressed in this program do not necessarily represent those of the National Endowment for the Humanities.