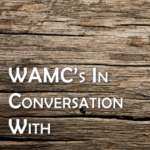 As part of ongoing events in conjunction with the A City of Immigrants celebration in Albany, WAMC Northeast Public Radio and the Albany Times Union partnered for a live panel at The Linda, WAMC's Performing Arts Studio, on Thursday.
Hosted by WAMC's Dr. Alan Chartock, the panel included Paul Grondahl of the Times Union – who is publishing a series on Albany and immigration in the newspaper – Maseeh Mukhtar, an immigrant from Afghanistan and a Ph.D. student in nanotechnology at SUNY Polytechnic, and Uzma Popal, an immigrant from Pakistan and director of the Muslim Soup Kitchen project, and Francis Sengabo of RISSE.
"It has been a staple of American democracy that we are a nation of immigrants, and certainly, Albany is a city of immigrants," Chartock says.
"One of the key roles of the leading news organizations in a community must be to encourage dialogue on the important issues of the day," Times Union publisher Rex Smith says. "And if we better understand our immigrant heritage, we can better explore the contemporary challenges presented by immigration. "
This program is part of Albany Pro Musica's month of events marking A City of Immigrants, sponsored by Bank of America. This special concert and event series explores the cultural heritage of the Capital Region.