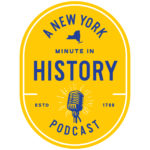 On this episode of A New York Minute In History, we recall the Miracle On Ice, when the U.S. Men's Hockey team upset the Soviet Union in the 1980 Winter Olympics in Lake Placid. Co-hosts Devin Lander and Lauren Roberts also explore how the 1980 Games got off to a rocky start and how they are remembered today. We also learn about how the 1932 Winter Olympic Games in Lake Placid helped make the region in New York's Adirondack Mountains a winter sports haven. In this episode, you'll hear from 1980 Team Captain Mike Eruzione, famed sports broadcaster Al Michaels and New York Times-best selling author Wayne Coffey.
Thanks to Wayne Coffey, author of The Boys of Winter: The Untold Story of a Coach, a Dream, and the 1980 U.S. Olympic Hockey Team as well as Michael Burgess who wrote A Long Shot To Glory: How Lake Placid Saved The Winter Olympics and Restored The Nation's Pride, as well as Allison Haas of the Lake Placid Olympic Museum and Steven Loughman of the New York State Museum for their time and expertise.
Also thank you to the New York State Archives for audio from the 1932 and 1980 Olympics games as well as NBC Sports for hosting the conference call with Al Michaels and Mike Eruzione.
Music used in this episode of A New York Minute In History includes "Begrudge" by Darby, "Hash Out" by Sunday at Slims, "Kid Kodi" by Skittle, "Rafter" by Speakeasy, "Roundpine Textile" by Resolute and "Dirtbike Lovers" by Desert Orchard.
A New York Minute In History is a podcast about the history of New York and the unique tales of New Yorkers. It is hosted by Devin Lander, the New York State Historian, and Saratoga County Historian Lauren Roberts. WAMC's Jim Levulis is the producer. A New York Minute In History is a production of the New York State Museum, WAMC Northeast Public Radio and Archivist Media.
Support for this podcast comes from the William G. Pomeroy Foundation®, which helps people celebrate their community's history by providing grants for historic markers and plaques. Since 2006, the Foundation has expanded from one to six different signage grant programs, and funded nearly 1,000 signs across New York State and beyond … all the way to Alaska! With all these options, there's never been a better time to apply.
The Foundation's programs in the Empire State include commemorating national women's suffrage, historic canals, sites on the National Register of Historic Places, New York State's history, and folklore and legends. Grants are available to 501(c)(3) organizations, nonprofit academic institutions, and municipalities. To apply for signage at no cost to you, or to learn more about the Foundation's grant programs, visit WGPfoundation.org.
This program is also funded in part by Humanities New York with support from the National Endowment for the Humanities. Any views, findings, conclusions or recommendations expressed in this podcast do not necessarily represent those of the National Endowment for the Humanities.