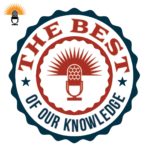 Taking on the family business can be pretty interesting when the business is curating the legacy of the most notorious vampire in literature. Dacre Stocker is the great-grandnephew of Bram Stoker, the author of the original 1897 novel Dracula. Since then there have been hundreds of interpretations on the character in print, as well as the stage and screen. A few years ago, Dacre wanted to add his own take on the story, and write a sequel to the original novel that bore the Stoker name. That book, Dracula the Undead was written with co-author Ian Holt and released in 2009. In 2018 he collaborated with J. D. Barker on a prequel to the original called Dracul.
Dacre Stoker was raised in Montreal and taught at Appleby College in Ontario before moving to the U.S. He is a former member of the Canadian men's pentathlon team and coached the team at the 1988 Summer Olympics in Seoul, South Korea. We asked how he went from that to becoming the keeper Stoker estate.
Dacre Stoker is the great grandnephew of Bram Stoker, the author of Dracula. He has co-authored the sequel called Dracula the Undead, and the prequel called Dracul. He also directed, produced and wrote the 2011 documentary film Dracula meets Stoker. You can learn more about Dacre and the Stoker Estate and legacy at dacrestoker.com.
Sure, when it comes to vampires, Count Dracula's a pretty big name, but what about those other, lesser known vampires? That's the topic of today's Academic Minute.
This episode originally aired in March 2020.