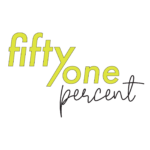 When you think of the Girl Scouts, what comes to mind? For me, it's cookies. Samoas, specifically. It's cute little hats and sashes with badges and if I'm being honest, those little plastic boondoggle crafts that I could never get to look good enough to give as a keychain gift on Christmas.
Whatever I thought I'd find in this banquet hall, it certainly wasn't these composed, serious-looking high school girls who are changing the world.
On 51%, we learn how some high school girl scouts have been helping their communities during the COVID-19 pandemic. And we'll learn how the Girl Scouts are trying to diversify.