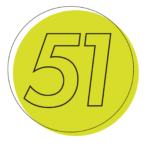 On today's 51%, for graduation season, we celebrate non-traditional students who returned for their degree later in life.
And we'll hear a first-hand experience of walking across the graduation stage: mine.
Some people grew up with parents who drilled into them over and over: after high school you go to college, you get an internship, you get a good job, then you get married and so on… But what about those of us who had a more round-about journey? Who did things "out of order" because we couldn't afford school right away or weren't sure what degree was for us or… joined the military — and then found our way back to school? What about the people who had to get a big dose of life before they knew what they were meant to study? Today, we celebrate those people.
Like Vivian Rose Cunningham, who just graduated with her first bachelor's degree.
"And I say this, I'm a young 78," Cunningham said.
She graduated from Samford University in Birmingham, Alabama with a degree in liberal studies.
Cunningham says others might find it pointless to graduate later in life, but to her it was a lifelong goal – she refused to give up.
Cunningham says she was raised by strong women.
"I grew up with my mom and because of my father, who had passed away at the age of 24, so she actually raised me," Cunningham said.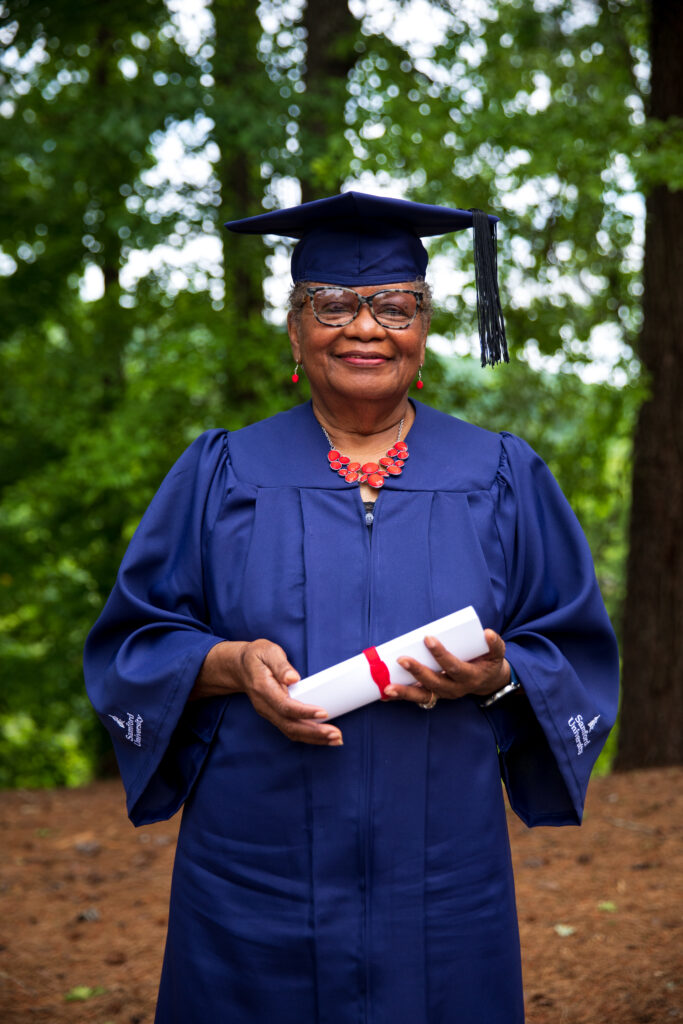 Children Are A Full-Time Gig
Cunningham says having children put her educational goals on hold. She married at 18, worked at a dress shop in Atlanta for about a year, and then had her daughter and son. She moved back to Birmingham and worked as a night custodian to support her children.
"After getting pregnant with my daughter, then I couldn't work or do anything," Cunningham said. "I couldn't even go to school at that time. But it was always in the back of my mind that I was going to get any education, you know, have a bachelor's or associate's or something. So when I came back to Birmingham, after the marriage didn't work, I ended up with my mom and while living with her, I was hired with Alabama Power Company. And I was hired on the night shift, and I worked there 13 years on that shift. Well during that time with the little kids, I couldn't go to school. So when I found out about the reimbursement program at Alabama Power, I started looking into the school situation then but it was 13 years after because I had to sleep during the day."
Cunningham worked her way up to the mail room, which meant no more night shift — and she heard about the company's Tuition Reimbursement Program. The stars were aligning and her mind drifted back to dreams of higher education. She started with community college, doing a few semesters at Birmingham Southern.
"Each time I had to drop out for something – you know either for the job, overtime or whatever," Cunningham said. "So, something would come in between and stop me from going to school. So once all of that was over with I would start again."
Cunningham then earned her associates degree in paralegal studies from Virginia College.
"And from there I wanted more, I was not satisfied with just the associates degree," Cunningham said. "So, I decided I wanted to get a bachelor's."
So she enrolled at Samford University.
"I picked up a brochure or pamphlet or something that they had out that showed that they had a professional facilities evening program," Cunningham said. "And so I looked into that. And with the credits from Birmingham Southern and through UAB, I was able to be enrolled at Samford University."
Whatever It Costs
Cunningham says she understands that student loans can seem intimidating, but she says it's worth it.
"If you had that dream, and you really want to get your education or finish school, or whatever. I mean, if you just put forth that effort, and whatever it costs, however you can be funded – just go for it," Cunningham said.
Cunningham says growing up in Birmingham, she didn't see many Black people attending college. But she says that didn't change her goals.
"Well, I didn't see a lot of Blacks at the time, but I knew what I wanted to do," Cunningham said. "You know, I didn't care about what someone else wanted to do. I knew what I wanted to do and what I had in my mind and heart to do."
Cunningham says she hopes women everywhere don't talk themselves out of their dreams of getting a degree.
"Set your goals and go for it," Cunningham said. "And don't let anybody discourage you. Because you know, there are people who will discourage you, and you know, and ask you why you want it. And, 'Why are you doing it at this age?' But, don't let that discourage you, just go on and do what you want to do. If you want that education set your goals to get started to get that degree."
Cunningham's two children are inspired by her walk across the stage as well.
"They were proud of me," Cunningham said. "And they say that I encourage them now, like my son probably is thinking about doing something and he's 59. And also I have other members in my family that are younger than me. And I told them, 'If I can do it, they can do even more,' — because you know, they are younger."
Cunningham's daughter is working on her PhD and, because of Cunningham, her son is considering going back to school. And Cunningham says she's not finished yet.
Judge Cunningam
"I'm looking at it right now — I'm going through the master's programs to see what I want to do, but it will probably be something in the law field," Cunningham said.
Cunningham says after all the night classes, virtual learning, student loans and starting and stopping – it was worth it. She says there was no greater feeling than walking across that stage – even in the Alabama heat, sweating behind a mask.
"My head was spinning," Cunningham said. "And I thought I was in a movie. I just feel so awesome up there on the stage. Like I was in a dream."
Even though Cunningham is proud of her journey, she says to all the young women who have started college – don't stop.
"Stay with it and don't drop out and don't go down another road, just stay right on in college and get your degree," Cunningham said. "Because, you know, it's hard. It is hard when you're older and trying to go in and like I said sometimes, you know, when we were going to campus it would be cold, and sometimes it will rain. And sometimes I wouldn't want to go but you know what — I push myself to go on. And I was glad I did. Because I didn't want to miss anything in the classroom. So, but just stay with it if you're young now, but even if you get older if you have a dream just go on and do it."
Non-trad Grad
There's a name for people like Cunningham in the higher education biz: "non-trads." Non-traditional students, according to Darlene Poirier — the transfer experiences coordinator at the State University of New York Albany.
"We work with all undergraduate students to connect them with faculty, we know that the more students are connected with faculty outside of the classroom, the better they do academically," Poirier said. "So my job as the transfer coordinator is to obviously make sure our transfers are engaged outside of the classroom. But transfers are a unique group of students. So they're all coming from very different walks of life. And my job is to really make sure that they're adjusting both academically and socially to UAlbany."
Poirier has been the transfer coordinator for seven years. She has a master's degree in higher education and counseling from Indiana University of Pennsylvania. She says transfer students are her favorite to work with because they come from all walks of life, and usually come in with a lot of life experience.
And she says about 40% of UAlbany transfer students come in with an associate's degree.
"They're working full time," Poirier said. "They are raising families. They're earning their degree to further themselves in the career, or they're making a whole career change, and they're going back to school for a new degree."
I tell Poirier that was actually me. I earned a bachelor's degree from John Carroll University in Cleveland as an ROTC cadet, I graduated, commissioned, and served on active duty as a signal officer for five years. I was working on government satellites in California when I realized, somewhat abruptly, that I wanted to be a journalist. I joined UAlbany as a second degree transfer student at the age of 28. And I was nervous. Poirier says this is common.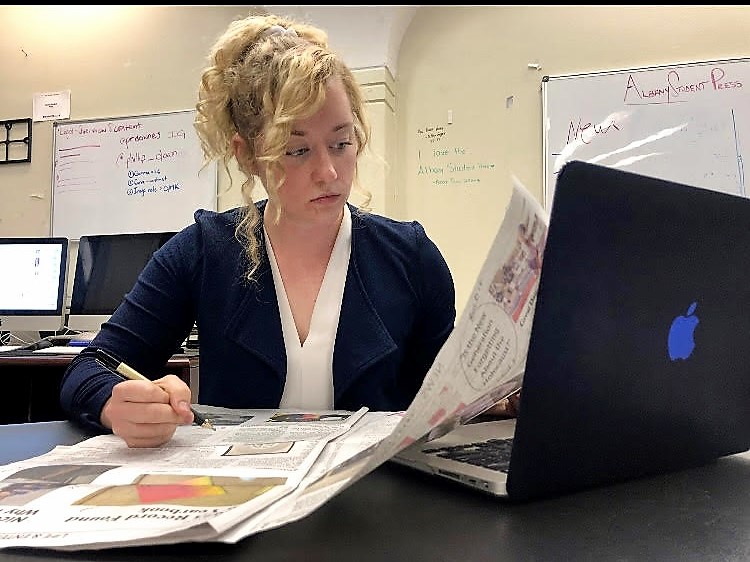 "We actually survey our transfers every fall semester," Poirier said. "And we asked them, 'What were their main challenges? And their challenges do not change from year to year. There's simply two main ones that we always see are the most common: One is adjusting to our academic rigor. A lot of our students are coming from community colleges or maybe smaller four year institutions. So coming to UAlbany seems very large, even though we are technically a mid-size University. UAlbany can seem extremely large, especially in those large lecture centers, you know, where they were used to being a student in a class of 30. Now they're a student in a class of 300. So adjusting to, 'How do I do well in a class when I am one of 300? How do I connect with the faculty? How do I get academic support?'"
The other challenge? Making friends and feeling a part of the community. Which I was nervous about, too.
"A lot of these friend groups have already been made, you know, especially if they're a transfer student coming in the middle of the year, so for our spring semester," Poirier said.
Which I was. I came to UAlbany just after the winter break.
Poirier says she focuses on helping non-trads find their smaller community within the larger community.
"I am only one person so I rely very heavily on my transfer leaders, we call them transfer transition leaders or TTLs," Poirier said.
These students mentor and act as a resource for new students, reaching out to transfers before they even start classes.
"When a transfer student deposits — makes that down payment at UAlbany, saying 'Yes, I'm definitely coming,' we get a list and we start reaching out to them via email and on our social media sites to help them build those connections and get questions answered before they even start classes," Poirier said. "So the hope is, is that when they're starting classes they already know a couple people they can go to."
This is how I started writing for the school newspaper before classes even started. And those students – my fellow editors and photographers — were my first friends on campus. And to my surprise, they never made me feel "old," actually – they valued my life experience and asked me lots of questions.
Poirier says it's not just a campus of young people.
"I always hear, 'I feel like I'm in a room full of 18-year-olds, and I have no one to connect with.' And what they don't know is that there are hundreds of non-traditional students," Poirier said. "We define that as students who are 24 years of age or older, going back to school or starting school. Here at UAlbany, we feel that if you have had a non-traditional pathway to your education, maybe you had a child at a young age, or maybe you're taking care of a sick relative or working full time trying to get yourself through college, you can come and join our non-traditional programs. Our non-trads feel very alone, and that there's not a lot of them out there. However, the non-traditional student population is the fastest growing population every year at American colleges and universities. So there's more and more every year. And what we do at UAlbany is we try to get them together."
Poirier says the school hosts events for non-trads to meet.
"Where they can come together and talk to each other about what it's like to take care of kids while trying to get schoolwork done, after you've worked, you know, eight hours, 8-10 hours each day. What does that life and work balance feel like? What can the university do better to help support this population of students," Poirier said. "And in fact, we do have a transfer advisory group on campus. It is a group of faculty, staff and students who meet every semester to talk about what is the state of our transfer students, and that includes our non-traditional student population. What is UAlbany doing to support these students? What are we not doing? And how can we do it better?"
Poirier says if you're thinking about going back to school, but you're worried you won't fit in – remember that everyone has that fear, no matter their age.
"Myself, I'm going to be 40 soon, and I am looking into starting a new educational journey," Poirier said. "It's never too late. You just have to put yourself out there and reach out to the resources that are there for you. Never in your life are you going to have all of these professionals and students reaching out to you, wanting so badly to help you and make you succeed, to be successful. So take advantage of it while you're in college, you do have the ability to succeed, you just have to ask for help when you need it."
Poirier says older "non-traditional" students have proven to be some of the hardest workers.
"Our students who fall in that non-traditional age range, they're more likely to do better in the classroom," Poirier said. "And I think that it's because for one, they have a little bit more life experience. They're more serious about their studies. They know what it takes to, you know, succeed in a three credit class that you actually have to read your assignments. You can't just not do that homework, even though homework isn't necessarily required in college, it's still necessary if you want to do well."
But Poirier says non-traditional students are less likely to be engaged in campus activities outside of the classroom.
"I know that it's so hard when you're working, taking care of kids, to fit something else into that schedule. But we know that if students are involved outside of the classroom — that is where they're gaining skills that they might not get inside the classroom," Poirier said. "So leadership skills, program planning, time management skills, stuff that they've probably gotten in their lifetime. But it's always great to get some clubs, organizations, professional honoraries on that resume to make you more marketable in your career."
Poirier says there are about around 15,000 undergraduate students at UAlbany. Each year, they get about 2,000 transfer students. Of those, about 200 to 300 of them are considered non-traditional students. So at any given time, there are about 800 non-traditional students on campus.
So, Poirier says, you're definitely not alone on campus. There's always other students who may be in the same boat, and understand what you're going through.
"Never be afraid to take a risk," Poirier said. "If you feel that you're not getting everything out of wherever you are, make sure you are looking at all of your opportunities in front of you. It's never too late to make a change. It's never too late to take a risk, but just making sure that you are looking at the whole picture. So when you are in your school, wherever school you're at, you're looking at all the services that they offer and that you're taking advantage of every single support service you can — you're paying for it after all, so utilize those people. Don't be afraid to ask for help. And it's never too late to say yes to something so be brave, and I wish everybody the best."
Pomp And Change Your Circumstance
It took me three semesters to earn my bachelor's degree in journalism from UAlbany. But due to the COVID-19 pandemic, my ceremony was postponed. Instead, I crossed the stage in May in a socially distanced ceremony with four family members and face masks all around.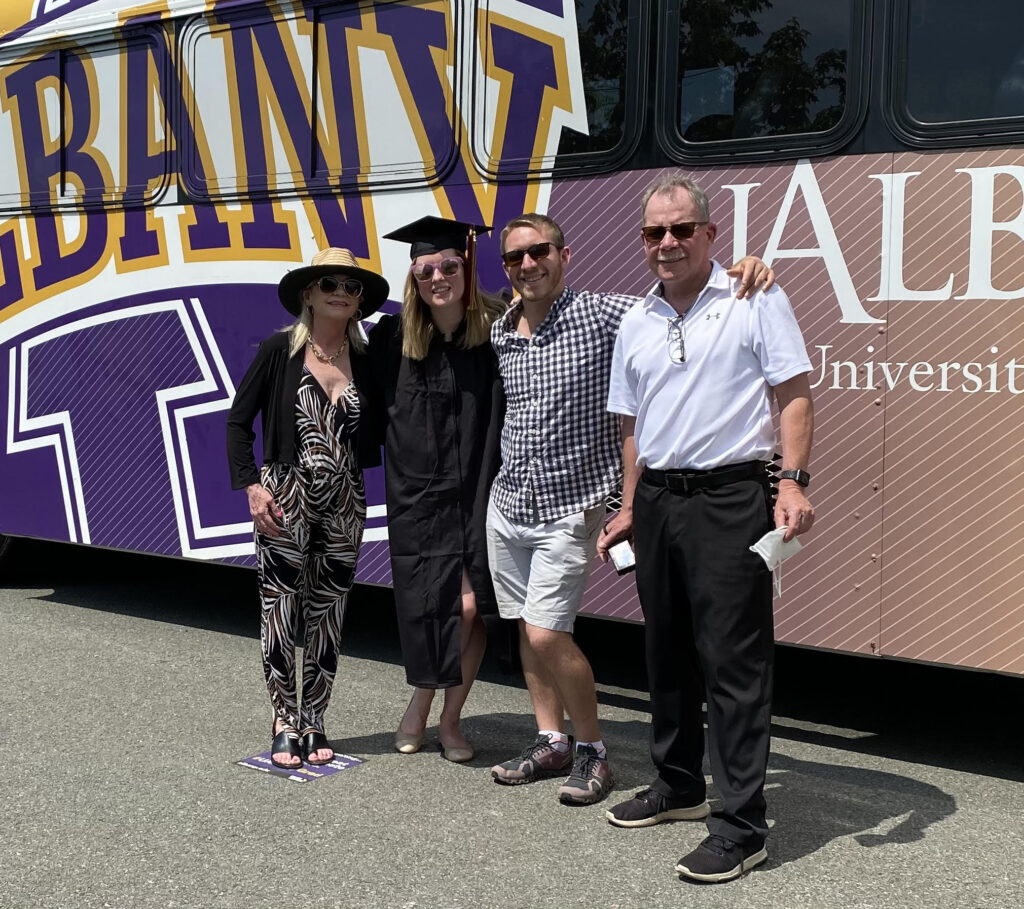 We are ushered up to the football stadium where a shaded walkway leads to a small stage covered in flowers and heavy drapes. There are maybe 15 people at an event that would normally draw thousands. This is a "moving graduation." Like a lazy river but instead of floating in water we are all doing a slow walk and taking tons of selfies without fear of dunking our phones.
My mom, my boyfriend Matt, and his parents walk alongside me trying to snap close-ups of my WAMC microphone and recorder. My mom proudly complain-brags about how I'm working even during my graduation. We approach a photo booth with a UAlbany backdrop and an all-smiles greeter.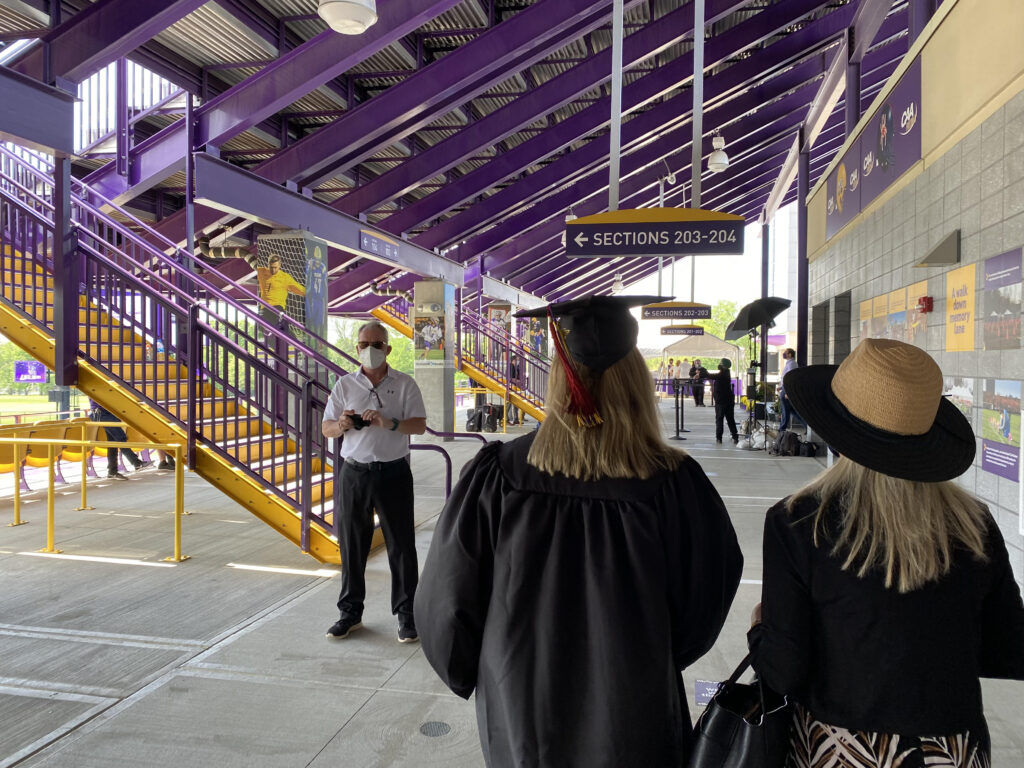 I turn to face the stage where UAlbany President Dr. Havidán Rodríguez is waiting with a smile. Normally, I'm not the sort of person who knows the president of anything. A company, a country, the chess club… But President Rodríguez was technically my very first interview as a journalist.
My first week, we were given an assignment in Journalism 101 to attend a Hurricane Maria panel. President Rodríguez was to be the keynote speaker. Our task was to attend the panel, get in line, and ask one question.
I spent hours researching everything I could about Hurricane Maria and formulating questions but I must confess, I do not remember what I asked when my time came. I just remember this: I stepped up to the microphone and said much too loudly, "My name is Jackie Orchard and I'm a journalism student." I had read it's important to get your name out there. But here's the important part: when Rodríguez answered my question he said this magical phrase: "journalists like you."
Someone had called me a journalist. It was real.
Truth be told, I wasn't. But he was taking me seriously, and that was everything.
And a few weeks ago, he handed me my journalism diploma.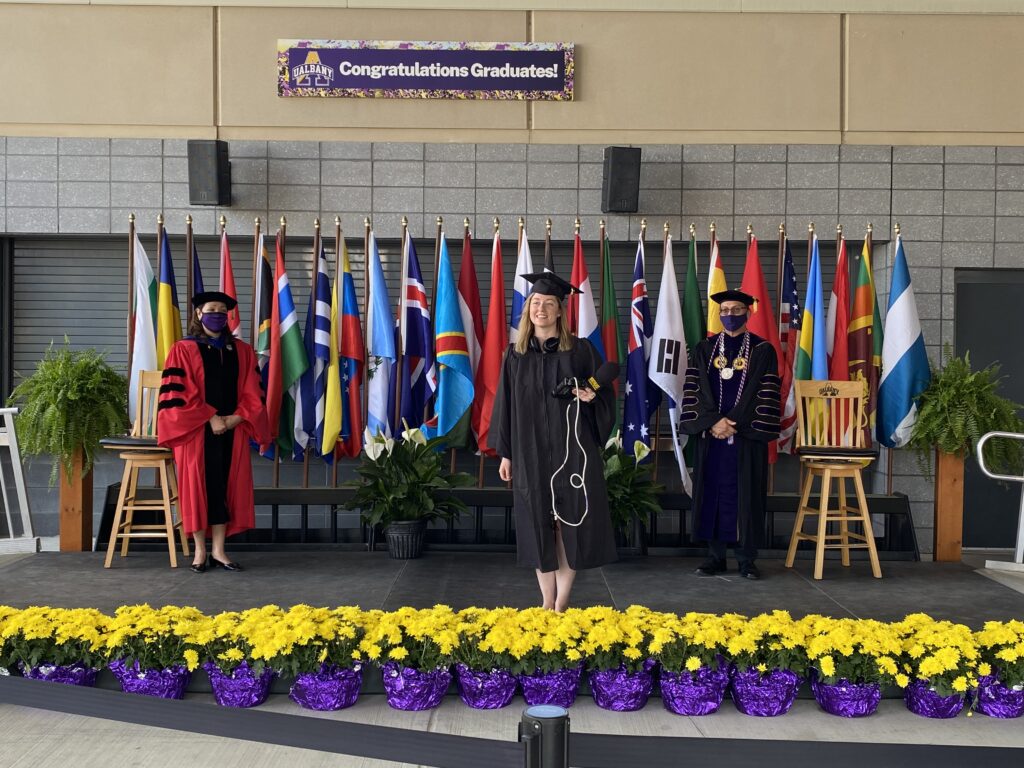 After I walked off stage and took way too many photos of me slow motion switching my tassels to the other side, President Rodríguez caught up with me for an interview.
I ask him if he remembers me at the Hurricane Maria panel – the moment that was so formative for me. And to my surprise, he does.
"I do remember," Rodríguez said. "We were on the downtown campus, right? Where we were having this symposium about the impact of Hurricane Maria in Puerto Rico. Right. And so the question, as I refer to it, right, was that not only do we have to focus on the immediate impacts of the event, but also, you know, after the event is over, and all the fanfare is over, that there still needs to — still impact socio economic impacts of the infrastructure. And so that was my call to you, as a journalist, right? To really think about, you know, following up on these very, very important stories, because you know, the disaster happens, and then the media moves to another location, and they forget about the needs and the impacts that people are living with, sometimes for years and decades."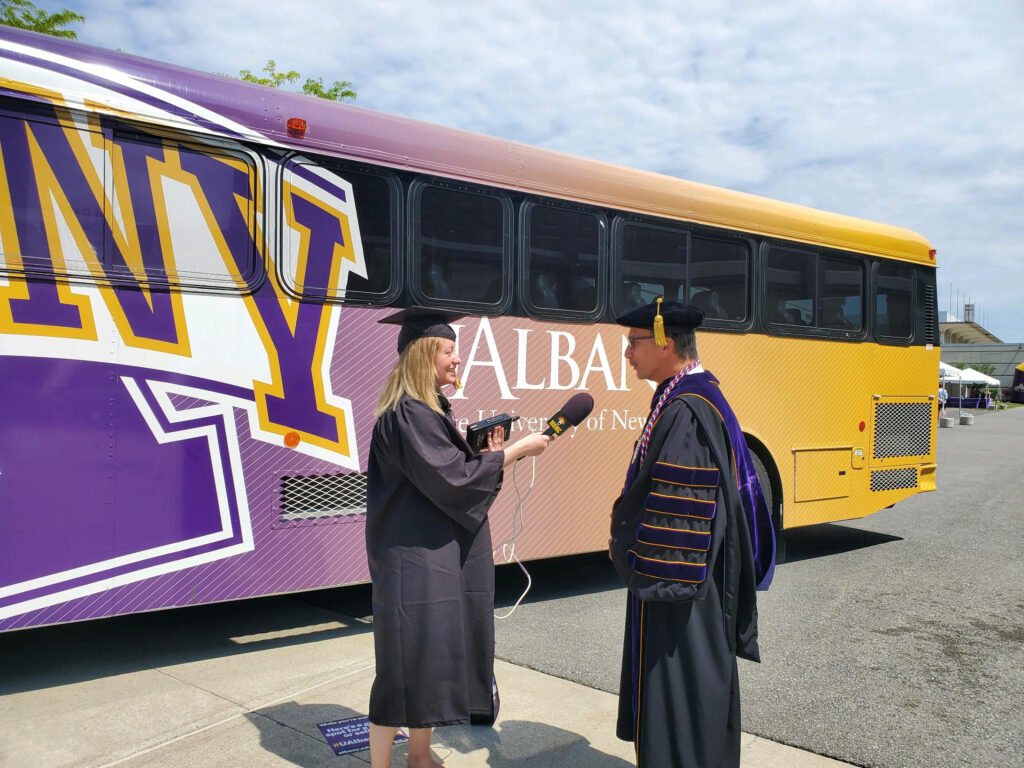 Rodríguez says this ceremony was adapted for COVID, because even though the world changed, students still deserve their moment in the sun.
"So we wanted to, first of all, ensure that everybody felt safe, and you know, and keep everybody healthy," Rodríguez said. "So as you can see, we're still wearing masks during the events. And we also wanted to provide the students an opportunity to come in and come in these pods, right, small pods with their family members, and make it really an intimate moment for their students and their families. You get an experience to walk out and down memory lane and see a whole variety of things that you probably experienced here at the university. But then, you know, get your family right there in front of the stage. When do you see that at a commencement ceremony? They can take tons of pictures. So we try to make it very personable, very engaging, the staff are just there to help you and assist you and make you feel welcome and celebratory."
Rodríguez says for students like me, commencement is important because it marks the end of a chapter.
"This is a major achievement, a major milestone in your life, probably, you know, one of the most important things that's going to happen throughout your lifetime," Rodríguez said. "But I think during the COVID, right, in the pandemic, it even makes it even more important. You know, people went through isolation, staying at home, people got sick, unfortunately, many people died, there was social and economic consequences and impacts. So now we see this ray of light, right? Vaccines available, the relaxation of public health measures, and then there's a moment to celebrate! To celebrate that success is incredibly important, not only for you as a graduate, your family members, but the University at Albany as well."
Rodríguez has a message for anyone who might be considering going back to school:
"It's never too late," Rodríguez said. "You know, we have graduates from all types of ages from 19 to 70 plus here at the University at Albany, so it's about, you know, continuing to generate knowledge continuing to get immersed in sort of whatever field you decide to choose. But always, it's always a good opportunity for professional growth and educational development here at the university. So you're always welcome to come back, you know, get a Master's, get a PhD, right. We're here to serve our communities and it's always a good time to do so."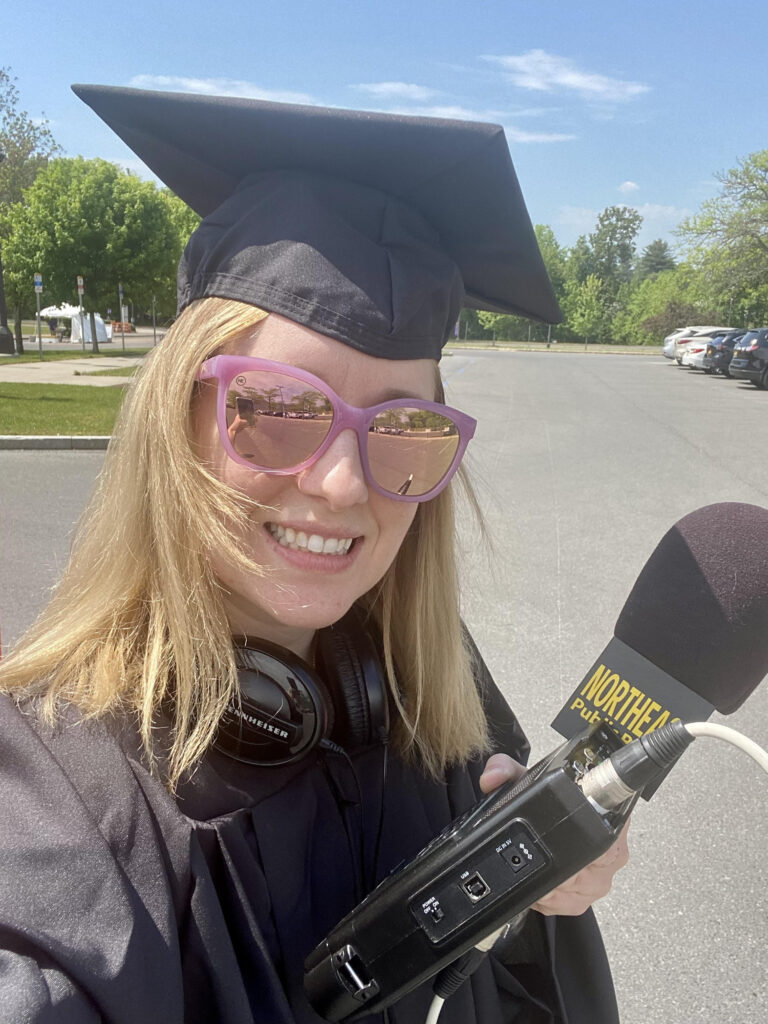 When I decided to leave the IT industry, I had family members who told me I was crazy. Great benefits and salary, growing field, indoors – were all words thrown around as an argument against me becoming a journalist. 'Journalism is a dying industry,' they said. 'You're a fool.' But sitting in a dark room, staring at computer screens all day was making me miserable. I wanted to be out in the world, meeting people, writing, and telling stories. The people in my life, at the time, didn't care about that. It wasn't until I was enrolled at a university, surrounded by journalism professors who truly believed in me, that I stopped feeling terrified at what I had done. In a time when no one believed in me – this school did. So, from one non-trad to another, take my word for it: it's never too late. And you can do it.
Thanks for joining us for this week's 51%. Thanks to our story editor Ian Pickus. Thanks to Tina Renick and Liz Hill for production assistance. Our executive producer is Dr. Alan Chartock.
Our theme music is "Lolita" by Albany-based artist Girl Blue. 51% is a national production of Northeast Public Radio. If you'd like to hear this episode again or share it with your friends, sign up for our podcast or visit wamc.org. And don't forget to follow us on Twitter, Instagram, and Facebook @51PercentRadio