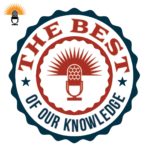 For 30 years, The Princeton Review has been publishing a comprehensive list of what they determine to be the best colleges in the country. The list is the result of thousands of interviews with students and in-person visits to campuses. The latest version has just been released called "The Best 387 Colleges." Due to the COVID pandemic, the in-person visits had to be curtailed for this edition, so the review added a section of "Great Lists" to the book. It lists items like colleges with great career services, great financial aid, even the happiest students. To talk about this year's edition of the book, we invited back Rob Franek, the editor in chief of the Princeton Review.
The Veterans Administration spends more than 13 billion dollars a year on educational benefits for vets. The agency has a new way to help ensure those who use the money to enroll in college succeed both academically and socially. It's partnering with a non-profit group called the Warrior-Scholar Project that runs "academic boot camps." Jay Price reports for the American Homefront Project.
How can colleges create culturally competent campuses? That's the alliterative topic of today's Academic Minute.
Photo courtesy of the Princeton Review.