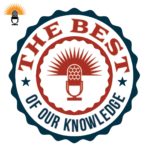 This week, since it was first published in 1995, James W Loewen's book "Lies My Teacher Told Me – Everything Your American History Textbook Got Wrong" has sold over 2 million copies. In 2018, a new edition of the book was released, with a new preface written by Loewen for what he calls the age of alternative facts. We had a delightful conversation that summer about the book, and since he has passed away we'd like to take another listen to it. We started by asking why they issued a new edition of the book that summer.
James Loewen was a renowned sociologist, educator, and racial justice activist. He died on Thursday, Aug. 19. Loewen was 79.
It's fair to say that James Loewen's book sent shockwaves through the academic community. And speaking of shockwaves, they're the topic of today's Academic Minute.
Photo courtesy of Atria Press/ Simon & Schuster.