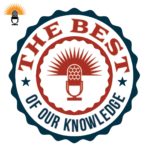 This week on the Best of Our Knowledge, we'll explore the digitization of libraries.
The dream of creating a universal library has been around since there have been libraries. In the digital age, several research libraries wanted to make this dream a reality but found the project a bit daunting. And then along came Google. They took on the task of digitizing research libraries across the nation into one massive database. This led to anticipation from scholars…and lawsuits from publishers. That's the story Deanna Marcum and Roger Schonfeld tell in their new book which is called "Along Came Google – A History of Library Digitization". Here to talk about the project is Roger Schonfeld, Program Director at Ithaka S+R for Libraries, Scholarly Communication, and Museums.
When Blythe Grossberg first started as a tutor and learning specialist, she had no idea what awaited her inside the high-end apartments of Fifth Avenue. Children are expected to be as efficient and driven as CEOs, starting their days with 5:00 a.m. squash practice and ending them with late-night tutoring sessions. She opens the door to that exclusive world in her new memoir called "I Left My Homework in the Hamptons: What I Learned Teaching the Children of the One Percent." She spoke with Joe Donahue about teaching the very well-off.
You can hear the rest of Joe Donahue's conversation with her on The Roundtable page at wamc.org.
So you might not have heard, but hurricane season is in full swing. That means working hard to keep the lights on during and after a storm. That's the topic of today's Academic Minute.
Photo courtesy of Princeton University Press.