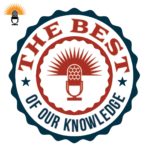 This week, a new children's book takes on media literacy. We'll also hear about a pair of kid's books about the insect world.
A puppy has lost his bones, and the search is on to find his lost treats. That's an extremely brief summary of the new book by Amy Jussel called "The Secret of the Vanishing Bones: Tracking the Data Trail." The book, aimed at students in grades K through 5, uses the story to teach young people about keeping their data private and gives them a first look at media literacy in the digital age.
Amy Jussel is the founder of Shaping Youth, a group that uses media literacy, film, policy advocacy, and social media campaigns to counter the influence of media marketing and data mining on young people. I asked why she wanted to tell this story to this audience.
"The Secret of the Vanishing Bones: Tracking the Data Trail" is published by Shaping Youth. You can learn more at shapingyouth.org.
Bugs are everywhere. And most kids love discovering a new creepy crawly. Now a pair of children's books are making it easier for young students to become budding entomologists. They're called "Insects & Bugs for Kids" and "Insects & Bugs Backyard Workbook," and they are written by Dr. Jaret Daniels, a curator at the Florida Museum of Natural History and an associate professor at the University of Florida at Gainesville. I asked why he wanted to teach young students about bugs. Both books are published by Adventure Publications.
More people are taking fewer precautions against COVID-19. That's the topic of today's Academic Minute.
Photo courtesy of Shaping Youth.