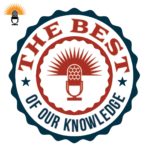 When Apollo 11 landed on the moon they indeed stepped where no man has gone before. But once they got there, they didn't go far. This week on the Best of Our Knowledge, we'll learn about the development of the lunar rover, and how that opened up the later Apollo missions with lunar road trips.
Watch a great video of the Apollo 15 astronauts driving on the moon HERE.
You can see the NASA-produced film about Apollo 15 HERE.
You can see many amazing images from the Lunar Reconnaissance Orbiter Camera HERE. Earl Swift talks about this site during the interview.
We'll also spend an Academic Minute doing business in space.
Photo courtesy of Custom House.