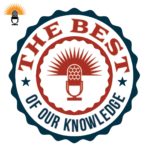 While transgender students may be the target of new laws around the country, the impact of those laws could spread a lot further. This week, a discussion on LGBTQ dignity.
Today we're going to talk to the authors of the new book, "Disrupting Dignity – Rethinking Power and Progress in LGBTQ Lives." Dr. Stephen Engle is a professor of politics at Bates College in Lewiston, Maine where he teaches constitutional law and LGBTQ politics. Dr. Timothy Lyle is an assistant professor of English and cultural studies at Iona College in New Rochelle, New York. I asked Dr. Lyle why they approached LGBTQ issues from a starting point of dignity.
Life is pretty good at putting barriers in your way while you're trying to simply live a smooth life. But, according to commentator and storyteller Jeri Burns, if you look around enough, you'll also find it can plotz a few heroes along the way, too.
Dr. Jeri Burns is a writer living in New York's Hudson Valley. She teaches part-time at SUNY New Paltz in the Department of Communication and also works with The Storycrafters, a musical storytelling duo. You can learn more about them at storycrafters.com.
Too much sitting down isn't a good thing, but not all sitting is created equal. That's the topic of today's Academic Minute.
Photo courtesy of NYU Press.