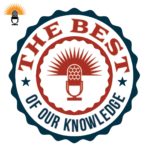 There are two words that strike fear into every young student's heart: summer school. But, many educators around the country are trying to change that. In fact, the goal could be to have students ask to participate in summer learning. The federal government has earmarked billions of pandemic relief funds to enhance school summer programs. That was the topic of a panel discussion at the Education Writers Association's virtual National Seminar this May.
The panel was moderated by Erin Richards of USA Today. It featured Jennifer Peck from the Partnership for Children and Youth, Ebony Johnson, Chief Learning Officer at Tulsa Public Schools, and Aaron Philip Dworkin, CEO of the National Summer Learning Association.
Being a good teacher means knowing how to tell a good story. That's the topic of today's Academic Minute.
Photo courtesy of the Education Writers Association.