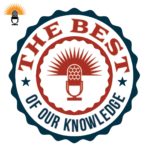 This week, silent, single-file lines. Detention for putting a head on a desk. Rules for how to dress, how to applaud, how to complete homework. Walk into some of the most acclaimed urban schools today and you will find similar recipes of behavior, designed to support student achievement. Joanne Golann spent a year doing just that. In her new book called "Scripting The Moves – Culture and Control in a No-Excuses Charter School," Dr. Golann describes the good intentions and the unintended consequences of these rigidly controlled schools.
Joanne Golann is an assistant professor of public policy and education at Peabody College, Vanderbilt University. I asked her why she started this project.
Last week, we heard from Secretary of Education Dr. Miguel Cardona as he spoke at the Education Writers Association's 74th Annual National Seminar. We thought we'd bring you some more from his conversation with moderator Sara Carr, a member of the EWA board. She asked about a potential timetable to collaborate with states to fund universal pre-kindergarten.
If space really is the final frontier, is it really wise for human beings to spend a lot of time up there? That's the topic of today's Academic Minute.
Photo courtesy of Princeton University Press.