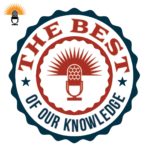 One of the biggest holes in a young person's high school education may be navigating their own financial life. But a partnership between a local Big Brothers/Big Sisters chapter and Navy Federal Credit Union is trying to fill in that gap. Here to talk about this new program is Paula Shell is the President and CEO of Big Brothers/Big Sisters of Northwest Florida, and Jennifer McFarren, manager of community and education outreach at Navy Federal Credit Union. Jennifer is also a big sister. I asked her to tell me about how the joint project got started.
Earlier this year, people of a certain age, and I'm a part of that group, lost an important part of their childhood. Ron Campbell passed away in Phoenix, where we made his home. Beginning in the late 1950s, in his native Australia, Campbell had a fifty-year career as an animator and director of some of the most iconic TV shows that ever graced a Saturday morning, from Popeye and Krazy Kat to Duck Tails and Rugrats. In the 60s, he became involved with the wildly popular animated show starring The Beatles. That led to him working on the movie Yellow Submarine. After retiring, Ron Campbell traveled around the world, bringing his work from those days to various art galleries. I spoke with him early last year and asked how he got started in the business.
Ron Campbell died in January at the age of 81. You can see some of his work here.
The universe is just about the biggest chemistry set you'll ever find. That's the topic of today's Academic Minute.
Photo courtesy of Big Brothers/Big Sisters.