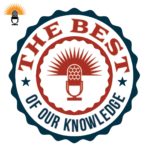 In the three decades, this program has been on the air we've talked about science, math, history, literature, and education policy and theory. But not this week. This week, we're talking show tunes.
If you make a list of the most important names in American culture in the latter half of the 20th Century, Stephen Sondheim has to be right near the top. When he received the Presidential Medal of Freedom in 2015, President Obama said "Put simply, Stephen reinvented the American musical." Now, there is a new collection detailing the composer's remarkable output called The Stephen Sondheim Encyclopedia. The collection was written by Rick Pender, who has written for CityBeat, Cincinnati's alternative newsweekly since it was founded in 1994. He was the newspaper's arts and entertainment editor and is currently a contributing editor. Pender is past chair of the American Theatre Critics Association and was the executive editor and publisher of Everything Sondheim. He also was the managing editor of The Sondheim Review. We asked Rick Pender why he took on this fairly daunting project.
The amount of food that goes to waste, not just here but around the world, is not only remarkable, it's also the topic of today's Academic Minute.
Photo courtesy of Rowman & Littlefield Publishing.