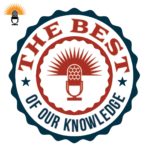 Most young people can be at some risk for substance abuse, regardless of their genetics. According to the National Center on Addiction and Substance Abuse, teen drug addiction is the nation's most costly and most preventable health problem. That said, nine out of ten adults with substance use disorder still report they began drinking and using drugs before age eighteen. According to Jessica Lahey, parents and educators need to understand the roots of substance abuse, identify those most at risk for addiction and offer timely, practical steps for prevention.
Lahey is a veteran educator who writes about education, parenting, and child welfare for The Atlantic, The Washington Post, and the New York Times. Her new book is called The Addiction Inoculation: Raising Healthy Kids in a Culture of Dependence. The Best Of Our Knowledge's Elizabeth Hill talked to Jessica Lahey about the book, her job working with recovering teens, and her own recovery.
Heard any good conspiracy theories lately. If so, it's nothing new. That's the topic of today's Academic Minute.
Photo courtesy of Harper Collins.