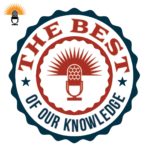 Taking over a century of children's stories and assembling a comprehensive collection is quite an undertaking. Now, make those stories that were originally written in Yiddish, and you end up with an impressive package of all forms of writing and unique perspectives of the world. And that's why we're talking today with Miriam Udel.
Dr. Udel is a rabbi and an Associate Professor in the Department of German Studies and the Tam Institute of Jewish Studies at Emory University. Her new collection is called Honey on the Page – A Treasury of Yiddish Children's Literature. We asked why she took on this project now.
At the end of this month, you'll be hearing a lot of talk about President Biden's first 100 days in office. So, why do we care about the first 100 days of a presidency? To get an answer, We spoke to Adam Cayton, an associate professor of government in The Reubin O'D Askew Department of Government at the University of West Florida. That's the question, what's the deal with 100 days.
With many students still taking a majority of their classes remotely, some families are looking for an extra educational boost. That's the topic of today's Academic Minute.
Photo courtesy of NYU Press.