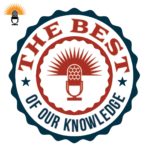 There's a whole lot going on inside our head that we don't understand. Don't feel bad, there are a lot of world-class experts that are just as puzzled about what makes the human brain tick. Bret Stetka tries to unravel what we actually do know in his new book called A History of the Human Brain – From the Sea Sponge to CRISPER, How Our Brain Evolved. Bret Stetka is the editorial director at Medscape, the professional division of Web MD. He is also a contributor to NPR and Scientific American. I asked him why he took on the daunting task of trying to explain the human brain.
Leaders at West Point will allow most of the students involved in a major cheating scandal to remain at the military academy. Late last year, 73 cadets were accused of collaborating on a virtual calculus exam. The scandal is raising questions about honor among the men and women who will become the Army's future leaders. Desiree Diorio reports for the American Homefront Project.
Scientists can be brilliant when they research new ideas and come up with innovative solutions to problems. When it comes to communicating their work to people like you and me…they could use some help. That's the topic of today's Academic Minute.
Photo courtesy of Workman Publishing.