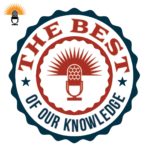 Steve Sheinkin is a Newbery award-winning children's author who made annual visits to schools to meet and read with students. When the pandemic forced him to cancel his usual travel plans last year, he wanted to find another way to interact with his readers. So, he teamed up with Stacey Rattner, an elementary school librarian in Castleton, New York. Together they came up with a fun way to get students and authors together. It's called the Author Fan Face-off, a game show available on YouTube.
Since the first episode, there have been over two dozen segments of the face-off produced and released to the public. Steve Sheinkin and Stacy Rattner spoke with The Best of Our Knowledge's Bob Barrett about this project, and their partnership.
Steve Sheinkin's latest book is Born to Fly: The First Women's Air Race Across America. You can find the Author Fan Face-Off on Steve's YouTube page.
Last year during spring break we all saw the pictures of college students packing beaches and other tourist spots with no thought of social distancing, let alone masks. The result, a surge of coronavirus cases when they returned to class. That led to timely research by researchers at Ball State University and Vanderbilt University called College Student Contribution to Local COVID-19 Spread: Evidence from University Spring Break Timing. Last spring, Bob Barrett spoke about that research with Dr. Paul Niekamp, an assistant professor of economics in the Miller College of Business at Ball State.
Photo courtesy of Steve Sheinkin.