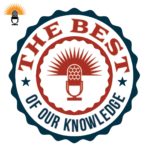 This week on The Best of Our Knowledge, we learn about the Marist Mindset List.
We also hear how students can enter a video competition from C-SPAN, get help for veterans with stress, and spend an Academic Minute helping members of the service with service dogs.
For over 20 years, the Mindset List has been a source of discussion for incoming college students. The list is now produced at Marist College in Poughkeepsie, New York. Tommy Zurhellen  is an Associate Professor of English Tommy Zurhellen at Marist College and the Director of the Marist Mindset List. We asked him about the history of the list.
C-SPAN has announced its 17th annual C-SPAN Student Cam Competition. This challenges students to produce timely videos about current events, and rewards the best with cash prizes and a chance to have their videos shown on the network. Here to talk about this year's competition is Pam McGorry, Education Program Senior Specialist at C-SPAN. We asked her to tell us what students will be working on this year.
Researchers have determined that veterans of color have higher rates of mental health issues like PTSD, compared with white veterans. Some psychologists at the Department of Veterans Affairs say that may be because of race-based stress and trauma. They've begun an effort to help Black veterans recognize and deal with those challenges. Emily Elena Dugdale reports for the American Homefront Project.
Sometimes when it comes to helping veterans with mental health issues, four legs are better than two. That's the topic of today's Academic Minute.