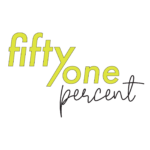 On this week's 51%, meet a woman whose calling is to carry the water, and the iconic Righteous Babe has written a memoir. We'll hear from Ani DiFranco. I'm Allison Dunne and this is 51%.
Carole Blodgett has wrapped up her ninth annual Water is Life Walk, the first to include New York's Hudson River. Blodgett was carrying water from the Hudson's source to New York Harbor, where she emptied it into the sea. It's part of her mission to restore the human-to-water connection and, after all, women are the water carriers. I had caught up with Blodgett toward the end of her walk about a month after she began.
That was "The Penobscot Water Song," written by Gabriel Paul, who is from the Crow and Eel Clan. The song is performed by his niece, Leigh Neptune, also from the Eel Clan.
We've included interviews with Ani DiFranco a few times on 51% over the past few years. The Grammy-Award winning musical artist and feminist is known for her social activism and political engagement, through song and otherwise. DiFranco's poetry and lyrics pierce social convention and challenge the status quo. And she's out with her new book, called, "No Walls and the Recurring Dream."
DiFranco's coming of age story is defined by her ethos of fierce independence: from being an emancipated minor sleeping in a Buffalo bus station, to unwaveringly building a career through appearances at small clubs and festivals, to releasing her first album at the age of 18, to consciously rejecting the mainstream recording industry and creating her own label, Righteous Babe Records. 51% Joe Donahue spoke with DiFranco about an array of topics, starting with her memoir.
BirdNote  Orioles Females Weave the Nest
That's our show for this week. Thanks to Elizabeth Hill for production assistance. Our executive producer is Dr. Alan Chartock. Our theme music is Glow in the Dark by Kevin Bartlett. This show is a national production of Northeast Public Radio. If you'd like to hear this show again, sign up for our podcast, or visit the 51% archives on our web site at wamc.org. And follow us on Twitter @51PercentRadio