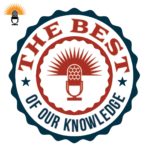 Today on the Best of Our Knowledge, we'll hear about distance learning tools brought to us by Google.
We'll also talk about one of the roadblocks to distance learning: broadband internet access…and we'll spend an Academic Minute looking for some magic.
It appears millions of students around the world will be attending classes virtually to begin the new school year. That means schools, teachers, and families will need the latest distance learning tools and technology. And a lot of those tools will be provided by Google. The G-Suite for education is one of those global tools and the demand for more continues to grow. I spoke with Katherine Williams, a Google Technology Expert, about how the company is helping get the school year started with distance learning.
Broadband is one of the main ways that Americans get on that old information super highway and access the internet and it's something that many of us may take for granted. According to the Federal Communications Commission there are 21 million Americans who don't have access to broadband internet. Depending on your definition of connectivity, that number could be even higher. For the program "After the Fact" produced by The Pew Charitable Trusts, host Dan LeDuc, spoke with Kathryn de Wit, who manages Pew's broadband research initiative, about the challenges for those on the wrong side of the digital gap.
Maybe all this technology isn't the whole answer to dealing with the pandemic. Maybe, just maybe, we need a little magic. That's the topic of today's Academic Minute.