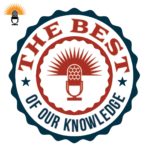 This Week on the Best of Our Knowledge, a report on the pandemic and Generation Z.
We'll also talk to a college president, who also happens to be a global health expert, about reopening her school in the Fall…and spend an Academic Minute with the really good water.
According to a new study released by ReGenerations, two-thirds of 18-to-24-year-olds say lockdowns due to COVID-19 have left them feeling lonely and fearful for their financial future. These young adults are already wrestling with mental-health challenges in greater numbers than previous generations at the same age. Here to talk about this study and what it means for Generation Z is Jessica Stollings-Holder, the President of ReGenerations. We asked why her company took on this study and who they spoke to.
Research has been recently published in the Journal of the American Medical Association Open Network about the safety of reopening colleges during COVID-19. An opening editorial to the study was written by Dr. Elizabeth Bradley, a global health expert. Bradley is the President of Vassar College in New York's Hudson Valley, and the founder of the Yale Global Health Leadership Institute. She spoke with The Best of Our Knowledge's Allison Dunne about plans for opening the school this Fall.
So what makes really good water really good water? That's the topic of today's Academic Minute.