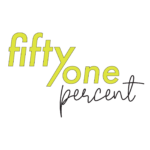 On this week's 51%, meet a woman who has ideas about how to help schools help their young students resolve racial conflict and hear how a nonprofit is supporting new moms.
The violence in the U.S. of people of different colors, cultures, religions and political groups has reached new levels, and it's affecting our youth. Social media may have worsened the divisive rhetoric and fanned the flames of hatred even more in recent years, but how can we come to racial reconciliation, especially with our youth?
Jesmane Boggenpoel has some ideas. She's the author of "My Blood Divides and Unites," and uses the power of story to reconcile racial contradictions. Boggenpoel, who is based in Johannesburg, South Africa, provides ways we can help our youth and schools deal with racial conflicts.
Boggenpoel is the former head of Business Engagement at the World Economic Forum in Switzerland. She has served on the boards of various international organizations and holds a Master's degree from Harvard University's JFK School of Government. Boggenpoel was honored as a Young Global Leader of the World Economic Forum, is a Harvard Mason fellow and a shareholder and founding board member of African Women Chartered Accountants Investment Holdings. She has worked on three continents, and travelled to more than 65 countries.
CHICAGO (AP) — Lori Lightfoot's victory in the Chicago mayoral race signaled hope among voters that the nation's third-largest city may someday move beyond long-entrenched divides, racial and otherwise, that have left large parts of the metropolis feeling ignored by people in power. Lightfoot became the city's first black female and first openly gay mayor when she defeated another black woman, Cook County Board President Toni Preckwinkle, in the April 2 election. She joins Chicago's top prosecutor and police chief as black leaders in a city that continues to struggle with race relations.
Across much of the Midwest, maternal and infant death rates are high — especially among African-Americans. So doctors, public health agencies and non-profit organizations are searching for solutions. Among them is Sistering CU in Champaign-Urbana, Illinois. It offers free home visits from trained volunteers to families with babies up to six months in age. It also recently launched a support group for new parents. Co-founder Erin Murphy spoke with Side Effects Public Media's Christine Herman about a new initiative to promote safe sleep habits and support families.
VATICAN CITY (AP) — Pope Francis says women have "legitimate claims" to seek more justice and equality in the Catholic Church, but has stopped short of endorsing more sweeping calls from his own bishops to give women decision-making roles.
Francis issued a document April 2 inspired by an October 2018 meeting of bishops on better ministering to today's young Catholics. The meeting was marked by demands for greater women's rights, and the final document called the need for women to claim decision-making positions in the church "a duty of justice." In the lengthy document "Christ is Alive," Francis endorses no such conclusion. He writes that the church must be attentive to women's "legitimate claims" for equality and must better train men and women with leadership potential.
That's our show for this week. Thanks to Elizabeth Hill for production assistance. Our executive producer is Dr. Alan Chartock. Our theme music is Glow in the Dark by Kevin Bartlett. This show is a national production of Northeast Public Radio. If you'd like to hear this show again, sign up for our podcast, or visit the 51% archives on our web site at wamc.org. And follow us on Twitter @51PercentRadio
"Contributions to 51% #1551 come from the Associated Press. All Rights Reserved