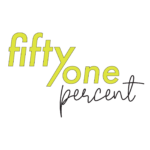 On this week's 51%, hear from an author of a book about Rebel Girls; listen to what a woman is doing to get her late husband's art before the eyes of the world and meet the ice wrangler.
Francesca Cavallo and Elena Favilli want girls to learn about women change makers, women who have rebelled before them. And the New York Times best-selling authors hope their book series "Good Night Stories for Rebel Girls" empowers the next generation by helping them see the Rebel Girls all around them. In 2016 and 2017, the authors broke records by creating the most crowdfunded publishing campaigns to launch the series, which contain more than 200 stories that encourage girls to dream big. At the end of 2018, the series expanded to include "I Am a Rebel Girl: A Journal to Start Revolutions," filled with activities that challenge perspective, induce thought and prompt action. Favilli spoke with 51%'s Elizabeth Hill about the activity journal, and a need for readers to understand history, feminism and themselves.
A Supreme Court order January 22 could make it harder for transgender troops to openly serve in the military. President Trump announced in 2017 that transgender people would NOT be allowed to serve "in any capacity." But the policy has been tied up in legal challenges. Carson Frame reports.
This story was produced by the American Homefront Project, a public media collaboration that reports on American military life and veterans. Funding comes from the Corporation for Public Broadcasting.
Fifteen years ago, Pat Stark discovered a lifetime of artwork in her home. She was startled by how much was there – and decided the world needed to see it too.
Pat Stark is preparing for a group show at the Philadelphia Woodmere Museum, in 2020, where she'll show a fraction of Sam's work. This piece was produced for The Transom Story Workshop in Woods Hole, Massachusetts. Martine Chaussard is a graduate of the workshop.
And here's another story focusing on art, in a much different medium. And context.
Ever wonder why candles inside ice luminaries don't melt into a puddle? Jennifer Shea Hedberg, a.k.a. "The Ice Wrangler," explains the science behind those glowing winter creations. KFAI's Dixie Treichel produced this audio portrait.
And with all this talk about ice, I'm ready for some sounds of spring.
Bird note
That's our show for this week. Thanks to Patrick Garrett and Elizabeth Hill for production assistance. Our executive producer is Dr. Alan Chartock. Our theme music is Glow in the Dark by Kevin Bartlett. This show is a national production of Northeast Public Radio. If you'd like to hear this show again, sign up for our podcast, or visit the 51% archives on our web site at wamc.org. And follow us on Twitter @51PercentRadio