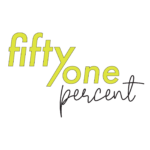 On this week's 51%, we take a look back at some interviews and stories we aired during 2018, ones that both serve as a reflection and perhaps indication of what lies ahead. In Politics. Music. Water. Opinion. Unapologetically.
As record numbers of women ran for office in 2018, and there were a number of firsts, Jennifer Palmieri believes that this might not have happened had Hillary Clinton become president. Jennifer Palmieri served as head of communications for Hillary Clinton's 2016 presidential campaign and White House communications director under President Barack Obama. She was also White House deputy press secretary for President Bill Clinton and national press secretary for the Democratic Party. She is president of the Center for American Progress Action Fund and author of — "Dear Madam President." I asked whether she thought Hillary Clinton's loss was a gender issue or likeability factor?
Aretha Franklin — the Queen of Soul — died August 16 at age 76 from pancreatic cancer. She was remembered as a gospel and pop giant and a civil rights beacon. Justin Patch is a post-doctoral fellow in music at Vassar College in Poughkeepsie, New York. A musician himself, Patch specializes in the intersection of music and American politics and he spoke with 51%'s Ian Pickus the week Franklin died.
The Pentagon says about 15,000 service members have experienced some kind of sexual trauma while in uniform. But because of the stigma, many wait decades before they seek help.  Bobbie O'Brien visited a special unit at a VA hospital in Florida. There, survivors of military sexual trauma receive intense inpatient treatment.
This story was produced by the American Homefront Project, a public media collaboration that reports on American military life and veterans. Funding comes from the Corporation for Public Broadcasting and the Bob Woodruff Foundation.
And we revisit a recent essay from writer Dr. Jeri Burns.
Dr. Jeri Burns is a storyteller, writer, and educator living in New York's Hudson Valley. You can find her at storycrafters.com. She is co-author of the recently published book "Storytwisting: A Guide to Remixing and Reinventing Stories." Burns also is an adjunct professor in the Department of Communication at the State University of New York at New Paltz.
That's our show for this week. Thanks to Patrick Garrett and Elizabeth Hill for production assistance. Our executive producer is Dr. Alan Chartock. Our theme music is Glow in the Dark by Kevin Bartlett. This show is a national production of Northeast Public Radio. If you'd like to hear this show again, sign up for our podcast, or visit the 51% archives on our web site at wamc.org. And follow us on Twitter @51PercentRadio