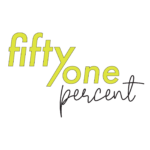 On this week's 51%, meet a woman who, after a career in TV, made her first feature-length documentary, and Dr. Jeri Burns tells a seasonal story.
Bonnie Hawthorne's documentary "Dreaming of a Vetter World" is about a visionary Nebraska farm family who understood that modern agriculture was ailing, and found a cure. From farmer's son to soil scientist to missionary and back to farmer, organic pioneer David Vetter has dedicated his life to a "ministry to the soil." With camera and camper in tow, Hawthorne leaves her urban comforts in the rearview mirror to learn from the Vetters about what's really going on in the Corn Belt. As interest in regenerating soil explodes worldwide, Hawthorne discovers that David Vetter is way ahead of the game. "Dreaming of a Vetter World" shows it's possible to jump off conventional agriculture's pesticide treadmill. It's also a story about love, hope and place; an example of perseverance and doing what you know is right — against all odds.
But first we need to back up, when the seed for her documentary film was planted, but she didn't even know it. It was during a chance encounter in 2004 in Zion National Park in Utah, where Hawthorne met Reverend Molly Vetter, one of the youngest ordained Methodist ministers, at age 26, in the country. They stayed in touch, became Facebook friends, and Hawthorne learned through Facebook about the Vetter family farm in Nebraska. I caught up with Hawthorne at the Woodstock Film Festival in the fall, where her film was screened for its East Coast premiere.
That was Bonnie Hawthorne. She is director, cinematographer, editor, writer, and narrator of her first documentary, "Dreaming of a Vetter World."
And now writer Dr. Jeri Burns illuminates a seasonal topic.
Dr. Jeri Burns is a storyteller, writer, and educator living in New York's Hudson Valley. You can find her at storycrafters.com. She is co-author of the recently published book "Storytwisting: A Guide to Remixing and Reinventing Stories." Burns also is an adjunct professor in the Department of Communication at the State University of New York at New Paltz.
That's our show for this week. Thanks to Patrick Garrett and Elizabeth Hill for production assistance. Our executive producer is Dr. Alan Chartock. Our theme music is Glow in the Dark by Kevin Bartlett. This show is a national production of Northeast Public Radio. If you'd like to hear this show again, sign up for our podcast, or visit the 51% archives on our web site at wamc.org. And follow us on Twitter @51PercentRadio